---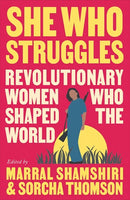 Edited by Marral Shamshiri and Sorcha Thomson
Pluto Press
9/20/2023, paperback
SKU: 9780745348247
Rosa Luxemburg, Claudia Jones and Leila Khaled may have joined Lenin, Mao and Che in the pantheon of twentieth-century revolutionaries, but the histories in which they figure remain unjustly dominated by men.
She Who Struggles sets the record straight, revealing how women have contributed to revolutionary movements across the world in endless ways: as leaders, rebels, trailblazers, guerrillas and writers; revolutionaries who also navigated their gendered roles as women, mothers, wives and daughters.
Through exclusive interviews and original historical research, including primary sources never before translated into English, readers are introduced to largely unknown revolutionary women from across the globe. The collection presents a hidden history of revolutionary internationalism that will be a must read for activists and anyone interested in feminist, anticolonial and anti-racist struggle today.
Reviews:
"Powerful, complex and compassionate... a meaningful intervention - not only in women's and revolutionary history, but in world history" -- Dilar Dirik, author of The Kurdish Women's Movement
"Captivating... captures the resolute vision of revolutionary women in anti-colonial, anti-capitalist and anti-imperialist struggles" -- Shahrzad Mojab, Professor, co-author of Revolutionary Learning
About the Editors:
Marral Shamshiri is a historian and activist. She is a doctoral researcher at the London School of Economics and managing editor of the journal Cold War History.
Sorcha Thomson is a historian and an associate research fellow at Birkbeck, University of London. She is co-editor of the book Palestine in the World and an editor of the History Workshop magazine.