---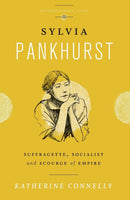 by Katherine Connelly
Pluto Press
8/13/2013, paperback
SKU: 9780745333229
From militant suffragette at the beginning of the twentieth century to campaigner against colonialism in Africa after the Second World War, Sylvia Pankhurst dedicated her life to fighting oppression and injustice.
In this vivid biography Katherine Connelly examines Pankhurst's role at the forefront of significant developments in the history of radical politics. She guides us through Pankhurst's construction of a suffragette militancy which put working-class women at the heart of the struggle, her championing of the Bolshevik Revolution and her clandestine attempts to sabotage the actions of the British state, as well as her early identification of the dangers of Fascism.
The book explores the dilemmas, debates and often painful personal consequences faced by Pankhurst which were played out in her art, writings and activism. It argues that far from being an advocate of disparate causes, Pankhurst's campaigns were united by an essential continuity which hold vital lessons for achieving social change. This lively and accessible biography presents Pankhurst as a courageous and inspiring campaigner, of huge relevance to those engaged in social movements today.
Reviews:
"The relationship between Sylvia Pankhurst and America is decisive and crucial to understanding Pankhurst's politics, life and historical legacy. Connelly combines scholarly expertise with concise, lively writing in the contemporary idiom... A timely and vital new contribution to Sylvia Pankhurst studies." -- Rachel Holmes, author of Sylvia Pankhurst: Natural Born Rebel and Eleanor Marx: A Life
About the Author:
Katherine Connelly is a leading member of Counterfire and a regular contributor to its online magazine. She has also contributed to International Socialism and Socialist Review, and is currently conducting doctoral research in History at Queen Mary, University of London.