---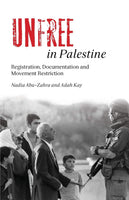 by Nadia Abu-Zahra and Adah Kay
Pluto Press
11/12/2012, paperback
SKU: 9780745325279
Based on first-hand accounts and extensive fieldwork, Unfree in Palestine reveals the role played by identity documents in Israel's apartheid policies towards the Palestinians, from the red passes of the 1950s to the orange, green and blue passes of today. The authors chronicle how millions of Palestinians have been denationalised through the bureaucratic tools of census, population registration, blacklisting and a discriminatory legal framework. They show how identity documents are used by Israel as a means of coercion, extortion, humiliation and informant recruitment. Movement restrictions tied to IDs and population registers threaten Palestinian livelihoods, freedom of movement and access to basic services such as health and education. Unfree in Palestine is a masterful expose of the web of bureaucracy used by Israel to deprive the Palestinians of basic rights and freedoms, and calls for international justice and inclusive security in place of discrimination and division.
Reviews:
"This book is a meticulous record of the system of identity documentation of Palestinians by the state of Israel, and the system's role in discrimination and dispossession. It has clearly been a labour of love over many years for the two authors, and they have produced a valuable addition to the historical narrative" - Victoria Brittain, former associate foreign editor of the Guardian and author of Shadow Lives: The Forgotten Women of the War on Terror
"A concise and razor-sharp account of the Kafkaesque system of population control inflicted by Israeli authorities on the Palestinian people in the 1967-occupied territories" - Gilbert Achcar, Professor at SOAS, University of London, author of The Arabs and the Holocaust
"A bold and uncompromising account of mass denationalisation from both ends of the telescope." - Jane Caplan, Professor of Modern European History, St Antony's College, Oxford
About the Authors:
Nadia Abu-Zahra is Assistant Professor of Globalisation and Development at the University of Ottawa. She is currently on the Board of Directors for the Canadian Federation for the Humanities and Social Sciences and has worked across the Middle East, Asia, and Central America. She is the author of 12 articles and book chapters on mobility in Palestine.
Adah Kay was Honorary Visiting Professor at Cass Business School, City University, London. An anthropologist and urban planner, she worked in local government, universities and UK NGOs. During 2002-6 she lived and worked in the West Bank. She was the co-author of Stolen Youth: The Politics of Israel's Detention of Palestinian Children.