---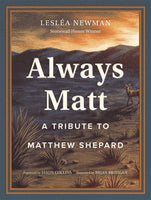 by Lesléa Newman, Illustrated by Brian Britigan
Harry N. Abrams
9/26/2023, hardcover
SKU: 9781419759420
A poignant tribute to the life of Matthew Shepard and his legacy in the fight for LGBTQ+ rights, honoring the formation of the Matthew Shepard Foundation, which dedicates its mission to erasing hate
On the night of October 6, 1998, in Laramie, Wyoming, Matthew Wayne Shepard (1976-1998) was brutally killed solely because he was gay. It was a shocking murder that was nationally covered in the media, and it became a rallying cry for the LGBTQ+ rights movement. In 2009, the Matthew Shepard and James Byrd Jr. Hate Crimes Prevention Act was signed by President Barack Obama, expanding the federal hate crime law to include crimes motivated by a victim's actual or perceived gender, sexual orientation, gender identity, or disability.
With a foreword by Jason Collins--the first openly gay active player in the NBA--and written by Lesléa Newman--author of the Stonewall Honor-winning novel-in-verse October Mourning: A Song for Matthew Shepard and a friend of the Shepard family-- Always Matt is an emotional yet ultimately hopeful look at the progress that's been made, as well as the work that still continues, in advocating for the dignity and equality of all people.
Without shying away from the pain and tragedy of his death, Newman's moving, lyrical prose and Brian Britigan's simple color line drawings present a celebration of his incredible life. Matthew's story still resonates for those who lived through it, and remains a vital piece of LGBTQ+ history for younger generations to learn.
Reviews:
"Loud and long expressions of gratitude and praise to Lesléa and Brian... for showing Matt as he truly was: someone who was gentle and kind, accepting everyone at face value, always wanting to make a new friend, and who had plans to make the world a better place for everyone." -- Judy and Dennis Shepard, Matthew Shepard's parents
"This deceptively simple look at Matthew Shepard's life and death is all the more powerful for what it doesn't show. Lesléa Newman's minimalist poetic text combined with Brian Britigan's shimmering illustrations cast a ray of light and hope on a very dark episode of human history, and in the process, creates a vision of a transformed world. This is a beautiful book." -- Alison Bechdel, author of Fun Home: A Family Tragicomic and The Secret to Superhuman Strength
About the Contributors:
Lesléa Newman is the author of 80 books for readers of all ages, including the novel-in-verse October Mourning: A Song for Matthew Shepard; the short story collection A Letter to Harvey Milk; the dual memoir-in-verse I Carry My Mother and I Wish My Father; the picture books Sparkle Boy and The Boy Who Cried Fabulous; and the children's classic Heather Has Two Mommies. Her honors and literary awards include the Matthew Shepard Foundation Making a Difference Award, a National Endowment for the Arts poetry fellowship, two American Library Association Stonewall Honors, two National Jewish Book Awards, the Association of Jewish Libraries Sydney Taylor Body-of-Work Award, and the Massachusetts Book Award. From 2008-10, she served as the poet laureate of Northampton, Massachusetts. Seven of her poems from October Mourning: A Song for Matthew Shepard are included in the libretto of Considering Matthew Shepard, a fusion oratorio composed by Craig Hella Johnson. Newman lives in Holyoke, Massachusetts.

Brian Britigan was  studied art and animation at the University of Washington in Seattle before earning an MFA in illustration from the School of Visual Arts in New York City. His illustrations have appeared in print and online publications, such as the New York Times, the Star Tribune, and the Progressive, and he has created animations for documentary projects, including the Emmy-nominated The Office of Missing Children. Britigan is an instructor and mentor at the Minneapolis College of Art and Design. He and his partner live in Minneapolis, Minnesota.