---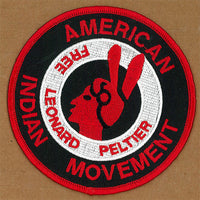 "They still don't want to admit to the world that this isn't the best and the fairest and most equal justice system. And that they are guilty of railroading people into jail. They don't want to, or never will, admit these things." - Leonard Peltier
This embroidered patch features the classic logo of the American Indian Movement (A.I.M.) and reads Free Leonard Peltier.
Leonard Peltier is one of the best known US political prisoners, currently serving 2 consecutive life sentences following a 1975 firefight on the Pine Ridge Indian Reservation.
Many incarnations of this patch have circulated over the decades, including "Lifetime Member," "Support Native Resistance," and several versions featuring "Remember Wounded Knee."
These 3-inch embroidered patches made in the US and feature iron-on adhesive. Get them while they last!