---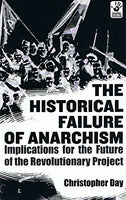 by Christopher Day
Kersplebedeb
2010, staple-bound
SKU: 9781894946445

An important exposition of the failure of anarchism to successfully carry out or defend revolution in the 20th century, raising poignant questions for the future. At the time that he wrote this essay, Day was a leading intellectual within the Love and Rage Revolutionary Anarchist Federation. In it he posits that anarchism has eschewed its revolutionary responsibilities, being an ideology of feeling good about oneself and one's ability to "keep your hands clean", while willfully overlooking the fact that this ability is largely a consequence of having failed to carry out a single successful revolution in the 20th century. As such, anarchism has retreated to a role of the perennial gadfly, ever ready to explain where those who carried out revolutions went wrong, while never actually able to explain its own frustrating lack of success.
Day goes on to claim that unequal development in different countries, the realities of military defense, and the requirement for an anti-statist anticapitalist revolution to be international, all constitute serious challenges to some of the axioms of anarchist ideology, regardless of the strengths or weaknesses of individual anarchists. "The Historical Failure of Anarchism" was written for a conference on anarchist strategy in 1996 and subsequently became the object of controversy within the Love and Rage Revolutionary Anarchist Federation where it was seen as a break with anarchism. The resulting debates were one of several factors that precipitated the breakup of Love and Rage in 1998. Members of Love and Rage went on to work in the Fire By Night Organizing Committee, Bring the Ruckus and the North East Federation of Anarcho-Communists (NEFAC) among other projects.
Be sure to check out the other titles from our friends at Kersplebedeb.