---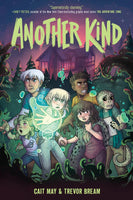 by Trevor Bream and Cait May
Harperalley
10/26/2021, paperback
SKU: 9780063043534
Six kids search for a new place to call home in this middle grade graphic novel debut by comic creators Cait May and Trevor Bream, for fans of Marvel's Runaways and The Witch Boy by Molly Knox Ostertag. Another Kind is not your average monster story.
Tucked away in a government facility nicknamed the Playroom, six not-quite-human kids learn to control their strange and unpredictable abilities. Life is good--or safe, at least--hidden from the prying eyes of a judgmental world.
That is, until a security breach forces them out of their home and into the path of the Collector, a mysterious being with leech-like powers.
Can the group band together to thwart the Collector's devious plan, or will they wind up the newest addition to his collection?
Target age: 10 and up
Reviews:
"Thrilling and packed with heart; an X-Men tale for the younger set." -- School Library Journal
"May and Bream cast an enjoyably wide net in terms of irregularities, constructing relatable characters out of yetis, planet-invading aliens, fairylike will-o'-the-wisps, octopus tykes, and all manner of werecreatures. This makes for a huge world filled with wonder and a fine introduction to social (and pronoun) differences for young readers. May paints this world with intense detail, an expansive emotional palette of expressive faces, and inky blots of living darkness when rapacious evil rears its foul head." -- Booklist
About the Contributors:
Trevor Bream is an author, Dungeon Master, cat dad, and secretly a tadpole in human form. They want to tell stories that appeal to all, especially the queer community. Another Kind is their debut into the world of comics writing.
Cait May is an illustrator, sea witch, purveyor of poisonous plants, and absolute supernerd. She is obsessed with cryptozoology, D&D, ghost stories, and all things that go bump in the night. She has worked with the McElroy family and Critical Role, and has been published in the Atlantic, Vengeful Ghost, and Cryptid Culture magazine. She wants to make comics that appeal to all ages and help readers face the crazy world we live in using their personal superpowers.