---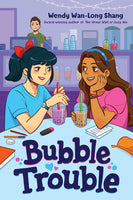 by Wendy Wan-Long Shang
Scholastic Press
7/18/2023, hardcover
SKU: 9781338802146
How many problems can a delicious cup of bubble tea cause? Plenty, if you're Chloe Wong. For starters, Chloe wants to go on the class trip to Broadway -- an expense Chloe's not sure she and her dad can afford since her mom passed away -- and those yummy cups of boba cost money. And then there's the fact that the incorrigible Henry Lee is the bobamaster at Tea Palace, and when he's not annoying Chloe, he's usually coming up with the perfect drink for every occasion. For Chloe, lover of neatness and control, the arrival of bubble tea is nothing but trouble!
But bubble tea really wreaks havoc when Chloe finds herself banned from Tea Palace (for dumping boba on someone who really deserved it!). She comes up with the idea to make her own boba and sell it, with the help of her best friend Sabrina, her inventor dad and (whether she wants it or not) her rescue dog. Suddenly neatnik Chloe will have to contend with sticky drinks, the complications of running her own business and...maybe the messiness of admitting that she actually like-likes someone? Will Chloe be able to step out of the bubble she has built around herself and into an exciting new adventure to go along with her boba tea?
Target age: 8 to 12
About the Author:

Wendy Wan-Long Shang is the author of The Great Wall of Lucy Wu, which was awarded the Asian/Pacific American Award for Children's Literature; The Way Home Looks Now, an Amelia Bloomer Project List selection and a CCBC Choices List selection; The Secret Battle of Evan Pao, which received multiple starred reviews; Sydney Taylor Honor Book This Is Just a Test, which she cowrote with Madelyn Rosenberg; and Not Your All-American Girl, a Tablet Magazine Best Children's Book, also cowritten with Madelyn Rosenberg. She lives with her family in the suburbs of Washington, DC.