---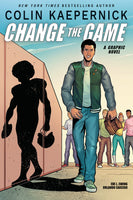 by Colin Kaepernick and Eve L. Ewing, Illustrated by Orlando Caicedo
Graphix
3/7/2023, paperback
SKU: 9781338789652
High school star athlete Colin Kaepernick is at a crossroads in life. Heavily scouted by colleges and MLB as a baseball pitcher, he has a bright future ahead of him as a highly touted prospect. Everyone from his parents to his teachers and coaches are in agreement on his future. Colin feels differently.
Colin isn't excited about baseball. In the words of five-time all-star MLB player Adam Jones, "Baseball is a white man's game." Colin looks up to athletes like Allen Iverson: talented, hyper-competitive, unapologetically Black, and dominating their sports while staying true to themselves. College football looks a lot more fun than sleeping on hotel room floors in the minor leagues of baseball. But Colin doesn't have a single offer to play football. Yet.
This touching graphic novel explores the story of how a young change-maker learned to find himself and never compromise. How the right decision is very rarely the easy one, but taking the road less traveled can make all the difference in the world.
Target age: 8 to 12
 Reviews:
"As I read my Brother Colin Kaepernick's Graphic Novel Change the Game I quickly peeped The Theme of Belonging. The eternal questions We all share. Where do we belong? Where we all fit in? Who are we? What is our purpose on this God's Planet? Who are our Peoples, Folks? Colin helps us understand by sharing the trials and tribulations he went through growing as an adopted Bi-Racial Teenager In Turlock, California. Colin got help telling his saga from Eve L. Ewing with the writing and Orlando Caicedo with the illustrations. Change the Game is a GAMECHANGER in helping us all navigate THIS THING CALLED LIFE." - Spike Lee, Storyteller from Da People's Republic of Brooklyn
"Change the Game offers an unforgettable lesson: how we choose to respond to adversity is the ultimate measure of our integrity and how we choose to reach unapologetically toward our dreams is the ultimate measure of self-love. This book is an inspiring reminder that no obstacle is too great to overcome when we stand in the light, care, and power of our passion and truth." - Naomi Osaka, Athlete, Entrepreneur, and Advocate
"An inspiring glimpse into the intricate web of identity formation, Change the Game reveals the heart of what makes us human. If emotional resonance was a sport, Mr. Kaepernick would be winning." -Nic Stone, #1 New York Times Bestselling Author of Dear Martin
About the Contributors:
Colin Kaepernick is a Super Bowl quarterback and New York Times and USA Today bestselling author who fights oppression globally. He founded the Know Your Rights Camp, which advances the liberation and well-being of Black and Brown people through education, self-empowerment, mass-mobilization, and the creation of new systems that elevate the next generation of change leaders. In 2019, he started Kaepernick Publishing to empower a new generation of writers and creators through the development and publication of meaningful works of all genres that focus on amplifying diverse views and voices.
Dr. Eve L. Ewing is a sociologist of education and a writer from Chicago. She is the award-winning author of four books: the poetry collections Electric Arches and 1919, the nonfiction work Ghosts in the Schoolyard: Racism and School Closings on Chicago's South Side, and most recently a novel for young readers, Maya and the Robot. She is the co-author (with Nate Marshall) of the play No Blue Memories: The Life of Gwendolyn Brooks. She has written several projects for Marvel Comics, most notably the Ironheart series. Ewing is an assistant professor at the University of Chicago Crown Family School of Social Work, Policy, and Practice. Her work has been published in The New Yorker, The Atlantic, The New York Times, and many other venues. 
Orlando Caicedo is a Colombian artist who grew up eating arepas and drawing. After completing his BFA with a concentration in Illustration at the Atlanta College of Art, he decided to do that full-time. He's the winner of Stan Lee's POW Entertainment/Webtoon comic contest as well as the Mad Cave Studios talent search. His published work includes Webtoon's The Badguys and Pound, and Mad Cave Studios' Dryfoot. He worked in animation before shifting to comics on hit shows such as the Emmy Award winning Archer for FX and Frisky Dingo for Adult Swim. When not drawing comics, he can be found napping with his loving wife and new baby daughter.