---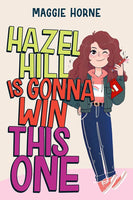 by Maggie Horne
HarperCollins
10/18/2023, hardcover
SKU: 9780358664703
A "must-read for tweens and their parents" (SLJ, starred review), this funny, feminist, and queer contemporary middle grade debut follows 12-year-old loner Hazel Hill, who after one of her classmates is harassed online, devises a plan to catch the school's golden boy in the act.
Seventh grader Hazel Hill is too busy for friends. No, really. She needs to focus on winning the school-wide speech competition and beating her nemesis, the popular and smart Ella Quinn, after last year's embarrassing hyperbole/hyperbowl mishap that cost her first place.
But when Hazel discovers Ella is being harassed by golden boy Tyler Harris, she has to choose between winning and doing the right thing. No one would believe that a nice boy like Tyler would harass and intimidate a nice girl like Ella, but Hazel knows the truth--and she's determined to prove it, even if it means risking everything.
Deeply relatable and surprisingly humorous, Hazel Hill Is Gonna Win This One is a wonderfully empowering story about friendship, finding your voice, and standing up for what you believe in.
Target age: 8 to 12
Reviews:
"Via Hazel's funny, self-aware voice and a fully rendered secondary cast, Horne's debut realistically limns the seventh graders' plight [...] alongside Hazel's organic arc toward friendship and empowerment." -- Publishers Weekly (starred review)
"The serious subject matter this novel covers is mediated well through Hazel's wry narration: She is funny, smart, and well adjusted even if she hasn't managed to make friends in middle school. The portrayal of the girls' concerns is also remarkably realistic, from their own reactions and considerations about when to speak up or remain silent to the varied and sometimes-disappointing responses of their parents and teachers." -- Kirkus Reviews (starred review)
"Horne does a wonderful job of keeping the characters true to age while dealing with the realities of online sexual harassment [...] This topical novel is a must-read for tweens and their parents; a recommended first purchase for middle school collections." -- School Library Journal (starred review)
About the Author:
Maggie Horne is a writer who grew up near Toronto, Canada. She now lives in the UK with her wife, where they keep a collection of dogs and children. She is the author of books for middle grade and young adult readers. Her first novel, Hazel Hill Is Gonna Win This One, was a 2023 LGBTQ+ Middle Grade Lambda Literary Award finalist and a Notable Children's Books in the Language Arts (NCTE) nominee.