---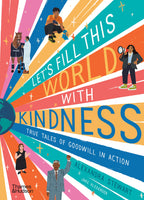 by Alexandra Stewart, Illustrated by Jake Alexander
Thames & Hudson
6/27/2023, hardcover
SKU: 9780500653104
In this uplifting collection of true stories, readers are introduced to real-life heroes and heroines who have chosen to act in kindness, even when they have faced terrible persecution, prejudice, disaster, and illness. These stories are designed to empower children to make positive choices in their own lives by embracing kindness as their superpower.
Stories include Harriet Tubman's remarkable rescue missions to free enslaved African Americans, the French village of Le Chambon-sur-Lignon's protection of Jewish refugees under Nazi persecution during WWII, and the brave people who volunteered to clean up after the nuclear crisis in Japan. Also included are everyday examples of acts of kindness to protect nature and lift up others, even complete strangers.
Let's Fill This World with Kindness explores the science of how our brains and bodies behave when we give and receive kindness. Featuring biographies of thinkers and philosophers from across different cultures who have celebrated the power of goodwill toward others, each chapter concludes with a list of questions for readers to help them reflect on the ways they too can be a kindness superhero.
Target age: 8 to 12
About the Contributors:
Alexandra Stewart is a nonfiction author for children. She trained to be a journalist and has worked as a press officer for the Metropolitan Police and Central Government in the United Kingdom. She is the author of Everest: The Remarkable Story of Edmund Hillary and Tenzing Norgay and Jumbo: The Most Famous Elephant Who Ever Lived.
Jake Alexander is an award-winning British illustrator. In 2019, he won both the Macmillan Prize and the Creative Conscience Gold Medal. He is the author and illustrator of We Want Our Books and illustrated David Olusoga's Black and British: An Illustrated History.