---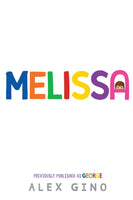 by Alex Gino
Scholastic Press
4/19/2022, paperback

SKU: 9781338843415

BE WHO YOU ARE.
When people look at Melissa, they think they see a boy named George. But she knows she's not a boy. She knows she's a girl.
Melissa thinks she'll have to keep this a secret forever. Then her teacher announces that their class play is going to be Charlotte's Web. Melissa really, really, REALLY wants to play Charlotte. But the teacher says she can't even try out for the part... because she's a boy.
With the help of her best friend, Kelly, Melissa comes up with a plan. Not just so she can be Charlotte -- but so everyone can know who she is, once and for all.
Target age: 8 to 12
Reviews:
Winner of the Stonewall Award -- Winner of the Lambda Literary Award -- A Children's Choice Book Award
"Profound, moving, and -- as Charlotte would say -- radiant, this book will stay with anyone lucky enough to find it." -- Publishers Weekly
"Warm, funny, and inspiring." -- Kirkus Reviews
About the Author:
Alex Gino loves glitter, ice cream, gardening, awe-ful puns, and stories that reflect the diversity and complexity of being alive. Their first novel, Melissa, was a winner of the Children's Stonewall Award, the Lambda Literary Award, and the Children's Choice Book Award. They are also the author of Rick and Alice Austen Lived Here.