---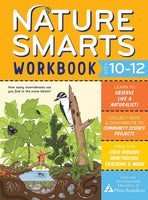 by The Environmental Educators of Mass Audubon
Storey Publishing
5/30/2023, paperback
SKU: 9781635863987
Every kid can be a naturalist-in-training with these outdoor and on-the-page activities, investigations, and puzzles from the acclaimed nature educators.
It's fun to be nature smart! Nature Smarts Workbook, Ages 10-12 builds kids' skills in field biology, nature observation, and investigation with interactive learning activities. Adapted from Mass Audubon's acclaimed nature camps, this workbook enhances schools' nature literacy curriculum with more in-depth lessons on plants, invertebrates, birds, habitats, herptiles, and mammals. Every section also ends with an invitation to be a community scientist and contribute data and observations to the wider effort to better understand our world. Perfect as a weekend enrichment activity, a workbook to stop the summer slide, and a hike or road trip take-along, nature-loving middle schoolers guide themselves through this introduction to key STEM concepts, such as habitat adaptation, plant reproduction, invertebrate anatomy, and phenology. Through outdoor observation experiments like completing a field survey and dissecting a flower, kids study nature wherever they are. And on rainy days, the on-the-page activities let the fun and learning continue with puzzles such as a bird anatomy crossword and games like matching the mammal to their tracks. Hands-on and engaging, this middle school addition to the Nature Smart series of workbooks gives kids the tools to become amateur naturalists and citizen scientists, going beyond the science material usually taught in school to encourage real investigations of the natural world from any backyard or city park.
Target age: 10 to 12
About the Author:
Mass Audubon, a major conservation organization for 125 years, is a nationally recognized leader in environmental education, serving 225,000 children and adults annually through its educational programs at 21 nature centers across the Commonwealth of Massachusetts, including licensed nature preschools, summer camps, PK-12 school programs, teacher professional development, and adult education.