---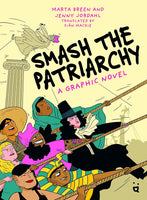 by Marta Breen, Illustrated by Jenny Jordahl, Translated by Siân Mackie
Helvetiq
10/24/2023, hardcover
SKU: 9783039640188
The patriarchy is falling. It's time to smash it. This graphic novel shows you how.
Patriarchy means "the rule of the father" and describes a system where men are in control. At least since the time of Aristotle, loud-mouthed men have called women weak and inferior. In entertaining comic book form, Smash the Patriarchy shames the culprits and salutes more than 100 inspiring women--from Pharaoh Hatshepsut to Mary Wollstonecraft to Petra Herrera--who stood up to them.
The book is not afraid to examine some of the worst crimes--public shaming, medical examinations, and the widespread murder and jailing of feminists around the world--as it calls on readers to finally smash the patriarchy forever.

These men get embarrassed: Aristotle, Jean-Jacques Rousseau, Immanuel Kant, Friedrich Nietzsche, Woody Allen and many more...

These women are celebrated: Alexandria Ocasio-Cortez, Emily Dickinson, Queen Christina of Sweden, Arundhati Roy, Amanda Gorman, and many more...
Target age: 12 to 14
Reviews:
"The narrative style brings home the scale of the injustices done to women while still remaining optimistic and celebrating the fortitude of those who try to change society for the better. The book explains concepts like "the male gaze" with clear, illustrative examples, as of the ubiquity of strip club scenes in films. It challenges the use of the word "genius" as it has been applied to men throughout history. And it does all this while maintaining a sense of humor: at the end, the three "worst sexists" in history are named--with a long list of (dis)honorable mentions." -- Foreword Reviews

"Marta Breen's witty text and Jenny Jordahl's dynamic art covers topics including reproductive rights, gay marriage and the #meToo movement. International and inclusive in outlook, it's both relevant and inspirational." -- Fiona Noble, The Guardian
About the Contributors:
Marta Breen is a writer, journalist and one of Norway's most profiled feminists. She made her debut in 2006 with the book Girls, Wine and Song, about Norwegian women through times in music. She has since established herself as a notable non-fiction author. Her book Women in Battle (2018), illustrated by Jenny Jordahl, has been sold in 27 territories.
Jenny Jordahl (b. 1989) is an illustrator, designer, blogger, writer and cartoonist. She is well known for her collaborations with feminist writer Marta Breen on books like The F Word and 60 Women You Should've Met. For her title What happened to you? (2020) she has won the prestigious Brage Award and the Orbil prize.

Siân Mackie is a translator of Scandinavian literature into English. They were born in Scotland and now live on the south coast of England. They have an MA in Scandinavian Studies and an MSc in Literary Translation as a Creative Practice from the University of Edinburgh. They have translated a wide range of works, from young adult and children's literature to thrillers and non-fiction. They also love translating for the theater and have participated in the theater company Foreign Affairs' mentoring program for translators and the Royal Court International Residency for Emerging Playwrights.