---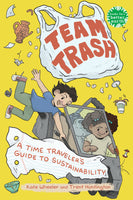 by Kate Wheeler and Trent Huntington
Holiday House Publishing
8/1/2023, paperback
SKU: 9780823454914
When a science project goes awry, two student activists travel through time to learn how to protect our Earth from plastic pollution in modern times.
Studious environmentalist Charlie is stuck with a science fair partner who seems like her complete opposite: Charlie wants to save the planet, and all Oliver wants is to doodle in his notebook. But when a mechanical mishap sends the two traveling back through time, they'll have to work as a team to return to the present day.
In order for the time machine to send them back, the unlikely duo must gather data on recycling throughout the ages - from sustainable marketplaces in Edo Japan to garbage-gobbling pigs in 19th-century NYC. Yet the closer the team gets to the present day, the more that plastic presents a problem: they're running out of time.
Harnessing their frustration over the daunting ecological future they've inherited, Charlie and Oliver discover the ways in which they can use their sustainability knowledge to return home and build a better earth.
In this sweeping educational adventure that transports readers across continents and centuries, Washington Post contributor Katie Wheeler invites readers into the history of recycling and how students can reduce plastic waste. Wheeler's fresh journal-style graphic novel acknowledges the reality of plastic pollution while offering accessible activist solutions, playfully-illustrated sustainability tips, and an optimistic look into how modern scientists are combating waste.Books for a Better Earth are designed to inspire children to become active, knowledgeable participants in caring for the planet they live on.
Target age: 8 to 12
Reviews:
"Its appealing format, relatable characters, fun premise, and informative content make it an excellent choice for all collections." -- School Library Journal, Starred Review 
"These snack-size history lessons--rendered in eye-catching color and easy-to-follow paneling interspersed with brief instructional guides--employ lightly slapstick humor to deliver digestible informational fare." -- Publishers Weekly
"Wheeler and Huntington have done a superb job of presenting these informative concepts and ideas in a sophisticated way while keeping the story entertaining with thoughtful illustrations and insightful storytelling. And the information is abundant: not only do they learn about historical practices but they encounter the effects of the invention of plastics and meet current legislators working on curbing pollution. Informative, empowering, and inspiring for young climate activists." -- Booklist
About the Author:
Kate Wheeler is a cartoonist originally from Seattle, Washington. Her work has been published in The Washington Post, The Seattle Weekly and The American Library Association Magazine. Kate loves storytelling and drawing, which is why she loves comics most of all. In her free time she enjoys playing with her two dogs, checking out a huge stack of books from the library or finding a new recipe involving fish sauce. Her favorite way to shop sustainably is to find hidden treasures in thrift stores.