---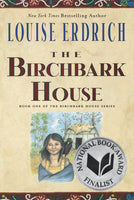 by Louise Erdrich
HarperCollins
11/16/2021, paperback
SKU: 9780063064164
This National Book Award finalist by Pulitzer Prize-winning novelist Louise Erdrich is the first installment in an essential nine-book series chronicling one hundred years in the life of one Ojibwe family and includes beautiful interior black-and-white artwork done by the author.
She was named Omakakiins, or Little Frog, because her first step was a hop.
Omakakiins and her family live on an island in Lake Superior. Though there are growing numbers of white people encroaching on their land, life continues much as it always has.
But the satisfying rhythms of their life are shattered when a visitor comes to their lodge one winter night, bringing with him an invisible enemy that will change things forever--but that will eventually lead Omakakiins to discover her calling.
By turns moving and humorous, this novel is a breathtaking tour de force by a gifted writer.
The beloved and essential Birchbark House series by Louise Erdrich includes The Birchbark House, The Game of Silence, The Porcupine Year, Chickadee, and Makoons.
About the Author:
Louise Erdrich, a member of the Turtle Mountain Band of Chippewa, is the award-winning author of many novels, including The Night Watchman and The Sentence as well as volumes of poetry, children's books, and a memoir of early motherhood. Erdrich lives in Minnesota with her daughters and is the owner of Birchbark Books, a small independent bookstore.