---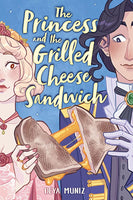 by Deya Muniz
Little, Brown Ink.
5/9/2023, paperback
SKU: 9780316538725
A nobleman with a secret and a princess on a mission find love--and lots of grilled cheese sandwiches--when they least expect it, in this funny, heartfelt graphic novel rom-com.
Lady Camembert wants to live life on her own terms, without marriage. Well, without marrying a man, that is. But the law of the land is that women cannot inherit. So when her father passes away, she does the only thing she can: She disguises herself as a man and moves to the capital city of the Kingdom of Fromage to start over as Count Camembert.
But it's hard to keep a low profile when the beautiful Princess Brie, with her fierce activism and great sense of fashion, catches her attention. Camembert can't resist getting to know the princess, but as the two grow closer, will she able to keep her secret?
A romantic comedy about mistaken identity, true love, and lots of grilled cheese.
Target Age: 8 to 12
Reviews:
"Muniz's impeccable rom-com instincts and the meticulously balanced high stakes combine to present a tender love story that plays out alongside the girls' individual struggles navigating society's limitations on women." -- Publishers Weekly, starred review 
"This charming story is a relatable exploration of questions of identity, honesty, and a journey to self-acceptance." -- SLJ
About the Author:

Deya Muniz was born and raised in Rio de Janeiro, Brazil, where they grew up watching Pride and Prejudice and reading copious amounts of shojo manga. In 2017, they moved to the United States to pursue a master's degree in sequential art, where they met and fell in love with a wonderful girl who makes delicious grilled cheese sandwiches.