---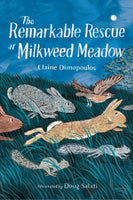 by Elaine Dimopoulos, Illustrated by Doug Salati
Charlesbridge Publishing
5/15/2023, hardcover
SKU: 9781623543334
Butternut lives in the burrows of Milkweed Meadow with her nine rabbit brothers and sisters. Together they practice strategies for survival and tell stories. With disastrous scenarios blooming in her mind, Butternut embraces the lesson of her families' stories: stick to your own rabbit-kind. But after befriending an incorrigible robin and a wounded deer, Butternut begins to question what she has been taught.
When the three friends discover other animals in crisis, Butternut must decide whether she can help, rally her friends and family, and be as brave as the heroes in the stories she tells.
Beautiful and arresting black-and-white illustrations bring the animals to life in this heartwarming story about friendship, community, and doing what is right.

Target age: 8 to 11
Reviews:
"A wild rabbit narrates a tale of friendship, bravery--and storytelling... Humor shines through as Butternut describes lessons in survival, storytelling, and grooming. Use your milkweed: Read this!" -- Kirkus Reviews, starred review
"An anxious young rabbit with a gift for storytelling narrates this intimately voiced, community-centered novel by Dimopoulos, which explores the value of crossing species lines and the bravery required to live in the world." -- Publishers Weekly, starred review
"The sparkling story is both terrifically funny and quietly contemplative, touching on heavy topics with a light hand and heaps of humor... The author has created a beautifully realized natural setting, and the story takes time to celebrate the joy in existence without shying away from some sobering realities of living as a wild creature. A marvelous reminder of the power in stories and the thrill in determining one's own destiny." -- Booklist, starred review
About the Contributors:
Elaine Dimopoulos is the author of Turn the Tide, a middle-grade novel-in-verse inspired by real-world environmental activism, and Material Girls, a young adult dystopian novel. She served as the Associates of the Boston Public Library Writer-in-Residence and has taught writing at Simmons University and GrubStreet. Elaine lives in Massachusetts with her family--and the robins that tend to build their nests above her trellis each spring.
Doug Salati is the Caldecott-medalist author and illustrator of Hot Dog. He is also the illustrator of several books for children, including Pip and Zip and Lawrence in the Fall.