---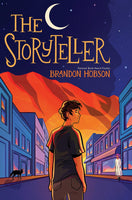 by Brandon Hobson
Scholastic Press
5/2/2023, hardcover
SKU: 9781338797268
From National Book Award finalist Brandon Hobson, a kaleidoscopic middle-grade adventure that mixes the anxieties, friendships, and wonders of a Cherokee boy's life with Cherokee history and lore.
Ziggy has ANXIETY. Partly this is because of the way his mind works, and how overwhelmed he can get when other people (especially his classmate Alice) are in the room. And partly it's because his mother disappeared when he was very young, making her one of many Native women who've gone mysteriously missing. Ziggy and his sister, Moon, want answers, but nobody around can give them.
Once Ziggy gets it in his head that clues to his mother's disappearance may be found in a nearby cave, there's no stopping him from going there. Along with Moon, Alice, and his best friend, Corso, he sets out on a mind-bending adventure where he'll discover his story is tied to all the stories of the Cherokees that have come before him.
Ziggy might not have any control over the past -- but if he learns the lessons of the storytellers, he might be able to better shape his future and find the friends he needs.
Target age: 9 to 12
Reviews:
"Deeply resonant and profound." -- NPR
"The Removed is spirited, droll, and as quietly devastating as rain lifting from earth to sky." -- Tommy Orange, author of There There
About the Author:
Brandon Hobson is the author of four books for adults, including the acclaimed novel The Removed and the National Book Award finalist Where the Dead Sit Talking. In 2022 he was chosen as a Guggenheim fellow. He teaches creative writing at New Mexico State University and at the Institute of American Indian Arts and is an enrolled citizen of the Cherokee Nation Tribe of Oklahoma. Dr. Hobson lives in New Mexico with his wife and two kids.