---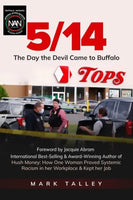 by Mark Talley
Independently Published
2022, paperback
SKU: 9798394623066
The date was May 14, 2022, a day that will go down in history as the day the devil, disguised as a racist asshole with hate in his heart and a semiautomatic rifle, came to the eastside of Buffalo and killed ten innocent Black people at Tops Friendly Market. Geraldine C. Talley, my sixty-two-year-old mother, was one of them. She was the last person he killed with two shots to the head before police "calmly" arrested him. I guess I can find a little solace in the fact that they didn't take him to Burger King afterwards like they did when Dylann Roof, that other racist asshole, murdered nine Black people during Bible study and worship at their church.
Foreword by Jacquie Abram.
About the Author:
Mark Talley is the founder and Executive Director of Agents for Advocacy, a nonprofit organization established in the wake of his mother's untimely death due to a racist terrorist attack. The primary mission and vision statement of Agents for Advocacy is to combat systemic racism and provide awareness on socioeconomic environment shouldn't determine one's future. His organization has organized various events to tackle socioeconomic issues, with initiatives such as providing free food and clothing to those in need, and educating communities on health, financial literacy, and diversity, equity, inclusion, and belonging. Mark Talley has facilitated speaking events at Canisius College, Canisius High School, Evans Bank, National Fuel, Tapestry Charter High School, Mount St Mary Academy, Niagara Falls High School, Erie County Medical Center, and has been featured on MSNBC, ABC, and Vice News.