---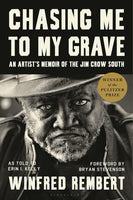 by Winfred Rembert with Erin I. Kelly

Bloomsbury Publishing
09/12/2023, paperback
SKU: 9781639731466
Winfred Rembert grew up in a family of Georgia field laborers and joined the Civil Rights Movement as a teenager. He was arrested after fleeing a demonstration, survived a near-lynching at the hands of law enforcement, and spent seven years on chain gangs. During that time he met the undaunted Patsy, who would become his wife. Years later, at the age of fifty-one and with Patsy's encouragement, he started drawing and painting scenes from his youth using leather tooling skills he learned in prison.
Chasing Me to My Grave presents Rembert's breathtaking body of work alongside his story, as told to Tufts Philosopher Erin I. Kelly. Rembert calls forth vibrant scenes of Black life on Cuthbert, Georgia's Hamilton Avenue, where he first glimpsed the possibility of a life outside the cotton field. As he pays tribute, exuberant and heartfelt, to Cuthbert's Black community and the people, including Patsy, who helped him to find the courage to revisit a traumatic past, Rembert brings to life the promise and the danger of Civil Rights protest, the brutalities of incarceration, his search for his mother's love, and the epic bond he found with Patsy.

Reviews:
"Winfred Rembert paints a world too little depicted and a reality we can't afford to forget. While testifying to this nation's long history of racial injustice, Chasing Me to My Grave is also a must-read story of Black struggle, solidarity, and love." -- Albert Woodfox, author of Solitary
"Rembert's art expresses the legacy of slavery, the trauma of lynching, and the anguish of racial hierarchy and white supremacy while illuminating a resolve to fight oppression and injustice. He has the ability to reveal truths about the human struggle that are transcendent, to evoke an understanding of human dignity that is broad and universal." -- Bryan Stevenson, New York Times bestselling author of Just Mercy and founder and executive director of the Equal Justice Initiative

"The power of Rembert's Chasing Me to My Grave is in the unvarnished truth, in the writing, the storytelling, the artwork, his life. Unvarnished literary and visual power." -- Carol Anderson, New York Times bestselling author of White Rage and One Person, No Vote

About the Contributors:

Winfred Rembert (1945 - 2021) was an artist from Cuthbert, Georgia. His paintings on carved and tooled leather have been exhibited at museums and galleries across the country. He was posthumously awarded the 2022 Pulitzer Prize in Biography for Chasing Me to My Grave.
Erin I. Kelly earned her PhD from Harvard and is Professor of Philosophy at Tufts University. She is the author of The Limits of Blame: Rethinking Punishment and Responsibility. She was awarded the 2022 Pulitzer Prize in Biography for Chasing Me to My Grave.