---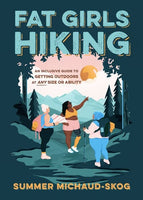 by Summer Michaud-Skog
Timber Press
3/29/2022, paperback
SKU: 9781643260396
From the founder of the Fat Girls Hiking community comes an inclusive, inspiring call to the outdoors for people of all body types, sizes, and backgrounds. In a book brimming with heartfelt stories, practical advice, personal profiles of Fat Girls Hiking community members, and helpful trail reviews, Summer Michaud-Skog creates space for marginalized bodies with an insistent conviction that outdoor recreation should welcome everyone. Whether you're an experienced or aspiring hiker, you'll be empowered to hit the trails and find yourself in nature. Trails not scales!
Reviews:
"I've been waiting for a book like this! Summer Michaud-Skog... has blessed us with this invaluable volume full of trail reviews, advice, stories and profiles, alongside beautiful photographs." -- Ms. Magazine
"Filled with heartfelt stories, practical advice, helpful trail reviews, and personal profiles of members of Fat Girls Hiking." -- Sierra
"Accessibility is and can be centered in outdoor activities like hiking. With plenty of pictures and lots of practical advice, this is a great book with which to get started." -- Book Riot
"[This book is] marking the next chapter in her movement...her book helps empower people to find their own connections to the outdoors, making the community of hikers even bigger." -- Teen Vogue
About the Author:
Summer Michaud-Skog is the founder of Fat Girls Hiking, a hiking community centered on a body positive mission to get folks of diverse backgrounds out on trails no matter their size, ability, or experience level. With more than 24,000 Instagram followers, and 29 (and counting) official chapters across the country, FGH continues to grow by the day. "Trails Not Scales" is their motto, and it's all powered by Summer's grassroots efforts, tireless work ethic, and gregarious, welcoming attitude. Not only is Summer a self-starting leader of a vital community, she also holds a degree in creative writing and is a photographer in her spare time.