---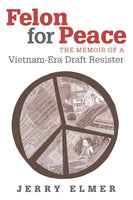 Sale
by Jerry Elmer
Vanderbilt University Press
9/5/2005, paperback
SKU: 9780826514950
When Jerry Elmer turned eighteen at the height of the Vietnam War, he publicly refused to register for the draft, a felony then and now. Later he burglarized the offices of fourteen draft boards in three cities, destroying the files of men eligible to be drafted. After working almost twenty years in the peace movement, he attended law school, where he was the only convicted felon in Harvard's class of 1990.
This book is a blend of personal memoir, contemporary history, and astute political analysis. Elmer draws on a variety of sources, including never-before-released FBI files, and argues passionately for the practice of nonviolence. He describes the range of actions he took--from draft card burning to organizing draft board raids with Father Phil Berrigan; from vigils on the Capitol steps inside "tiger cages" used to torture Vietnamese political prisoners to jail time for protesting nuclear power plants; from a tour of the killing fields of Cambodia to meetings with Corazon Aquino in the Philippines.
A Vietnamese-language edition of Felon for Peace has also been published.
Reviews:
"Jerry Elmer's story spans the breadth of nonviolent direct action during the Vietnam War and after. A new generation of activists in the peace and global justice movements now emerging will want to read this book to reflect on the tactical and strategic choices open to us today." -- Mark Rudd, last National Secretary of SDS and a co-founder of the Weather Underground
"Jerry Elmer's story is not only a fascinating memoir, but a thoughtful discussion of the most important issue of our time: can society's addiction to war be replaced by nonviolent direct action as a means for achieving a just and peaceful world?" -- Howard Zinn, historian
About the Author:
Jerry Elmer currently practices commercial litigation in Providence, RI.