---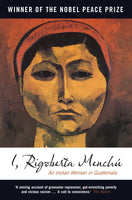 by Rigoberta Menchú
Verso
01/10/2010, paperback
SKU: 9781844674183
A Nobel Peace Prize winner reflects on poverty, injustice, and the struggles of Mayan communities in Guatemala, offering "a fascinating and moving description of the culture of an entire people" (The Times)
Now a global bestseller, the remarkable life of Rigoberta Menchú, a Guatemalan peasant woman, reflects on the experiences common to many Indian communities in Latin America. Menchú suffered gross injustice and hardship in her early life: her brother, father and mother were murdered by the Guatemalan military. She learned Spanish and turned to catechistic work as an expression of political revolt as well as religious commitment. Menchú vividly conveys the traditional beliefs of her community and her personal response to feminist and socialist ideas. Above all, these pages are illuminated by the enduring courage and passionate sense of justice of an extraordinary woman.
Reviews:
"A moving account of gruesome repression, gut-wrenching poverty and vicious racism... A call to conscience." -- Nation
"A cornerstone of the multicultural canon." -- Chronicle of Higher Education
About the Author:
Rigoberta Menchú received the Nobel Peace Prize in 1992 for her efforts to end the oppression of indigenous peoples in Guatemala.