---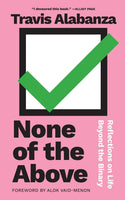 by Travis Alabanza
Feminist Press
10/17/2023, paperback
SKU: 9781558610347
A "humane and heart-rending" memoir exploring what it means to live outside the normative boundaries imposed by society, from an award-winning trans writer and performer (The Guardian).
In None of the Above: Reflections on Life Beyond the Binary, Travis Alabanza considers seven phrases people have directed at them throughout their life. These phrases--some deceptively innocuous, some deliberately loaded or violent, some celebratory--have fundamentally shaped Alabanza, both for better and for worse. But these phrases also illuminate broader issues about a world that insists on gender as a fixed identity.
Alabanza considers the meaning of gender, and the role it plays in a world that rigidly and aggressively enforces the binary. Drawing from their experiences as racialized queer person, Alabanza deftly interrogates our current frameworks around identity with nuance, openness, and humor. The result is a meditation on doubt and language that turns a mirror back on society, and on ourselves. By heralding transformative futures, None of the Above questions what we think we know--and shares new ways that we might live.

With a foreword by Alok Vaid-Menon.
Reviews:
"Travis Alabanza is a wise, hilarious, and sharp thinker--a writer who not only defies categorization, but who makes categorization itself seem fussy and obsolete." -- Torrey Peters, author of Detransition, Baby: A Novel
"None of the Above is more than a breath of fresh air. It's a prison break, a revolt, a wild thumb in the eye of a carceral gender system that tries to bind our flesh into rigid and ranked categories." -- Susan Stryker, author of Transgender History: The Roots of Today's Revolution
About the Author:
Travis Alabanza is an award-winning writer, performer and theatre maker. After being the youngest recipient of the Artist-in-Residency program at Tate Galleries, Alabanza's debut show Burgerz toured internationally to sold-out performances in the Southbank Centre, Sao Paulo, Brazil, and HAU, Berlin, and won the Edinburgh Fringe Total Theatre Award. In 2020 their theatre show Overflow debuted at the Bush Theatre to widespread acclaim and later streamed online in over twenty countries. Their writing has appeared in the Guardian, VICE, gal-dem, and BBC Online, and they previously had a fortnightly column in the Metro. They have been published in numerous anthologies, including Black and Gay in the UK. Their work surrounding gender, trans identity, and race has garnered international recognition, and they have given talks at universities including Oxford, Harvard, Bristol, and more.
Alok Vaid-Menon is an internationally acclaimed author, poet, comedian, and public speaker. They are the author of Femme in Public, Beyond the Gender Binary, and Your Wound/My Garden. They have appeared on Netflix's Getting Curious with Jonathan Van Ness, HBO's Random Acts of Flyness, and The Trans List.