---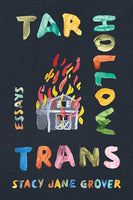 by Stacy Jane Grover
University Press of Kentucky
6/20/2023, hardcover
SKU: 9780813197555
"I've lived a completely ordinary life, so much that I don't know how to write a transgender or queer or Appalachian story, because I don't feel like I've lived one. Though, in searching for ways to write myself in my stories, maybe I can find power in this ordinariness."
Raised in southeast Ohio, Stacy Jane Grover would not describe her upbringing as "Appalachian." Appalachia existed farther afield-more rural, more country than the landscape of her hometown. Grover returned to the places of her childhood to reconcile her identity and experience with the culture and the people who had raised her. She began to reflect on her memories and discovered that group identities like Appalachian and transgender are linked by more than just the stinging brand of social otherness.
In Tar Hollow Trans, Grover explores her transgender experience through common Appalachian cultural traditions. In "Dead Furrows," a death vigil and funeral leads to an investigation of Appalachian funerary rituals and their failure to help Grover cope with the grief of being denied her transness. "Homeplace" threads family interactions with farm animals and Grover's coming out journey, illuminating the disturbing parallels between the American Veterinary Association's guidelines for ethical euthanasia and the World Professional Association for Transgender Health's guidelines for transgender care. Together, her essays write transgender experience into broader cultural narratives beyond transition and interrogate the failures of concepts such as memory, metaphor, heritage, and tradition. Tar Hollow Trans investigates the ways the labels of transgender and Appalachian have been created and understood and reckons with the ways the ever-becoming transgender self, like a stigmatized region, can find new spaces of growth.

Reviews:
"A book that courses like a river through place, time, and identity, Tar Hollow Trans is as finely crafted as it is necessary. Stacy Jane Grover has captured not just the deep feeling of Appalachian queerness, but the breadth of insight that comes from a life spent on the margins." ― Samantha Allen, award-winning journalist of and author of Real Queer America: LGBT Stories from Red States
"Tar Hollow Trans is a revelation. Sweeping, with stunning images and an enduring voice, this is a story that needs to be known: that of trans girlhood in rural Appalachia, told like a whispering, wondrous gospel. Heartfelt, haunted by home, and above all else, searching, this book marvels and creates the miraculous. I couldn't put it down, and it will live in me forever." ― Alison Stine, author of Trashlands
About the Author:
Stacy Jane Grover is a graduate of the University of Cincinnati and holds an MA in women's, gender, and sexuality studies. Tar Hollow Trans: Essays is her first book.