---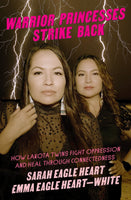 by Sarah Eagle Heart and Emma Eagle Heart-White
Feminist Press
1/17/2023, paperback
SKU: 9781558612938
Interspersing personal memoir with radical notions of self-help and collective recovery, Warrior Princesses Strike Back focuses how Indigenous activist strategies can be a crucial roadmap for contemporary truth and healing.
Pine Ridge Indian Reservation is home to the original people of this land, yet it is also one of the poorest communities in America. Through intimate and vulnerable memoir, Lakota twin sisters Sarah Eagle Heart and Emma Eagle Heart-White recount growing up on the reservation and overcoming enormous odds, first as teenage girls in a majority-white high school, and then battling bias in their professional careers.
Woven throughout are self-help strategies centering women of color, that combine marginalized histories, psychological research on trauma, and perspectives on decolonial therapy. Through the lens of Indigenous activism, the Eagle Hearts explore the possibility of healing intergenerational and personal trauma by focusing on traditional strategies of reciprocity, acknowledgment, and collectivism.

Reviews:
"Poignant, raw, and filled with compassion, Warrior Princesses Strike Back gives us an essential look into the historical and contemporary lives of Lakota women. The Eagle Hearts have written a love letter to their younger selves and to Indigenous women everywhere--a sacred gift to help the world collectively heal." -- Mark Ruffalo, actor
"The Eagle Heart twins share an eye-opening memoir about what it's like growing up on an Indian reservation in the present day. The brave Lakota sisters, supported by the wisdom and strength of their community, give readers an intimate and inspiring look into the women who are leading the struggle to heal. This book will make you look at America with fresh eyes." --Piper Perabo, actor and activist
"Eye-opening and intense, this penetrating memoir will inspire." -- Publishers Weekly
About the Authors:
Sarah Eagle Heart (Waŋblí Siná Wíŋyaŋ, Eagle Shawl Woman), Oglála Lakota, is an Emmy Award-winning social justice storyteller, entrepreneur, and philanthropic leader. Sarah cofounded Zuyá Entertainment to create multi-platform stories based on her unique worldview infused by her Lakota culture. Ms. Eagle Heart co-founded Return to the Heart Foundation to support innovative Indigenous women-led projects for climate justice, narrative change, civic engagement, healing, and restorative and regenerative development. Prior to this role she served as CEO of Native Americans in Philanthropy. Ms. Eagle Heart holds an B.S. in Mass Communications and a B.S. in American Indian Studies from Black Hills State University, as well as an M.B.A. from the University of Phoenix. She is also an exclusive public speaker with the American Program Bureau. She is based in Los Angeles, California and Pine Ridge Indian Reservation, South Dakota.
Emma Eagle Heart-White (Waŋblí Wíyaka Wíŋyaŋ, Eagle Feather Woman), Oglála Lakota, is a psychotherapist, life coach, survivor, and advocate. She began her career on the Oneida Nation of Wisconsin in the healing field as a youth advocate for Native American students within the public school system and continued her advocacy on behalf of Native American survivors of domestic abuse and sexual violence. Today she works as a psychotherapist and recently founded Owáste Healing and Wellness LLC, where she continues her passion for healing, advocacy, wellness, life coaching, energy work, and brainspotting therapy. She holds a BS in educational policy and community studies, as well as an interdisciplinary degree in American Indian studies from the University of Wisconsin-Milwaukee. She holds an MA in counseling with a community emphasis from Lakeland University in Plymouth, Wisconsin, and is currently working toward her PsyD doctorate degree in clinical psychology.