---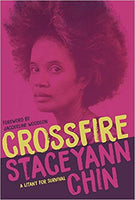 by Staceyann Chin
Haymarket Books
10/15/2019, paperback
SKU: 9781642590258
Powerhouse, world-renowned LGBTQ poet and spoken-word artist Chin curates the first full-length collection of her poems.
Crossfire collects Staceyann Chin's empowering, feminist-LGBTQ-Caribbean, activist-driven poetry for the first time in a single book.

According to The New York Times, Chin is "sassy, rageful and sometimes softly self-mocking." The Advocate says that her poems, "combine hilarious one-liners with a refusal to conform" and note "Chin is out to confront more than just the straight world."
Reviews:
"Staceyann Chin's Crossfire: A Litany for Survival is a remarkable collection from a dynamic and talented writer, whose urgent storytelling and commanding voice feel vital for our times." --Edwidge Danticat

"With this astounding new collection of poems, Crossfire, it is evident that Staceyann Chin has come into her raw, sexual, revolutionary, poetic power. These poems are jet fuel from the hot center of the body--from rage, from sorrow, from pure, unmitigated life-force." --Eve Ensler

"We've all been waiting for this collection--all of us that know the brilliance, the heartbreaking truth telling, and the magic of Staceyann's cadences. Now all of us who have been lucky enough to have seen her on stage, heard her from the ramparts, can be joined at last by readers in the quiet spaces to properly celebrate this remarkable voice and watch her take her place in American letters." --Walter Mosley

"Rarely are experiences of transgender men or that of masculine women given space in conversations around feminism. Staceyann brilliantly and so eloquently weaves in these points of view with passion and prose that brought me to tears. Her words and her presence is a remarkable example of authentic allyship in action." --Tiq Milan

"This book is irresistible. It hums / sings / talks / seduces us with words. Love. Information. Purpose. She recaptures / reminds us that we must answer that most important question if we are to live: what does it mean to be human? Her words help us to see a path. A future. A beginning. And we say as we read her book: I know why I be reading your poems. And we all say ¡Si se puede! Yes we can!" --Sonia Sanchez

"I've never been as brave as Staceyann Chin, never as forthright about my own sexuality or trauma or longing, and she, who stands on the far side of the curve of feminist power, love, and rage, inspires us all to inch our way just a bit more in her direction." --Rosanne Cash

"How fortunate we all are that Staceyann speaks her truth and, in doing so, speaks the truth of so many others. Crossfire brings together a passionate and riveting body of work that inspires all of us who speak for justice, for truth, for liberation." --Karine Jean-Pierre
Author:
Poet, actor, and performing artist Staceyann Chin is the author of the critically acclaimed memoir The Other Side of Paradise, cowriter and original performer in the Tony Award-winning Russell Simmons Def Poetry Jam on Broadway, and author of the one-woman shows Hands Afire, Unspeakable Things, Border/Clash, and MotherStruck. She has appeared on the Oprah Winfrey Show and 60 Minutes, and her poetry been featured in the New York Times and the Washington Post. She proudly identifies as Caribbean, Black, Asian, lesbian, a woman, and a resident of New York City, as well as a Jamaican national.