---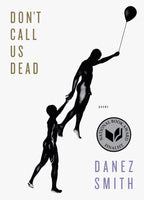 by Danez Smith
Graywolf Press
9/5/2017, paperback
SKU: 9781555977856
Finalist for the National Book Award for Poetry
Winner of the Forward Prize for Best Collection
Award-winning poet Danez Smith is a groundbreaking force, celebrated for deft lyrics, urgent subjects, and performative power. Don't Call Us Dead opens with a heartrending sequence that imagines an afterlife for black men shot by police, a place where suspicion, violence, and grief are forgotten and replaced with the safety, love, and longevity they deserved here on earth. Smith turns then to desire, mortality--the dangers experienced in skin and body and blood--and a diagnosis of HIV positive. "Some of us are killed / in pieces," Smith writes, "some of us all at once." Don't Call Us Dead is an astonishing and ambitious collection, one that confronts, praises, and rebukes America--"Dear White America"--where every day is too often a funeral and not often enough a miracle.
Reviews:
"Luminous and piercing, this collection reassembles shattering realities into a shimmering and sharp mosaic." -- Publishers Weekly, starred review
"In this remarkable second collection from Kate Tufts/Lambda Award winner Smith, the content as well as the writing is transcendent." -- Library Journal, starred review
"Part indelible elegy, part glorious love song to 'those brown folks who make / up the nation of my heart, ' Smith's powerhouse collection is lush with luminous imagery, slick rhythms, and shrewd nods to Lucille Clifton, Beyoncé, and Diana Ross. Incandescent, indispensable, and, yes, nothing short of a miracle." -- Booklist, starred review
"These poems can't make history vanish, but they can contend against it with the force of a restorative imagination. Smith's work is about that imagination--its role in repairing and sustaining communities, and in making the world more bearable... Their poems are enriched to the point of volatility, but they pay out, often, in sudden joy... But they also know the magic trick of making writing on the page operate like the most ecstatic speech." -- The New Yorker
"Danez Smith is angry, erotic, politicized, innovative, classical, a formalist, an activist, and blends all of this without seeming to strain... This will be one of the year's essential books." -- Craig Morgan Teicher, NPR

About the Author:
Danez Smith is the author of [insert] boy, winner of the Lambda Literary Award for Gay Poetry and the Kate Tufts Discovery Award. Smith has received fellowships from the McKnight Foundation and the Poetry Foundation, and lives in Minneapolis.