---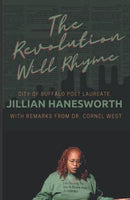 by Jillian Hanesworth, Forward by Cornel West

Independently Published
10/7/2021, paperback
SKU: 9798546716110
Welcome to the revolution! In her second collection, Jillian Hanesworth explores the idea of revolutionary change through a personal and community lens. The internal revolution details some of her most personal thoughts, insecurities, pains, and triumphs, while the external revolution displays her work and love for her community by speaking truth to power, calling for change, recounting history, and empowering people to walk in their own light. This book also features a transcribed conversation with Dr. Cornel West about using the arts to build political power.
About the Author:

Jillian Hanesworth was born and raised on the East side of Buffalo, NY. She began writing at the age of 7, when she would write songs for her mother to sing in church. She later took a break from writing to successfully pursue educational goals, and worked to obtain a BA in criminal justice and law focusing on reform.In January of 2017, Jillian committed herself to social change through art, thus began her poetry career. Since then, Jillian has performed over 200 times, in Buffalo, NY, NYC, Baltimore, MD, Toronto, and everywhere in between. She has let her passion lead her mission empower listeners to take part in demanding and creating sustainable systemic change.
Currently, Jillian is the founder of Literary Freedom, LLC, a community activist and organizer and the first ever Poet Laureate in the history of Buffalo after she spent 2 years advocating for the existence of the role. Jillian loves and lives for the community and exemplifies that in all that she does.