---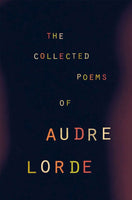 by Audre Lorde
W.W. Norton and Company
02/17/2000, paperback
SKU: 9780393319729
Originally published: 1997. Includes index, every poem ever published by the late poet, who is noted for the passion and vision of her poems about being African American, a lesbian, a mother, and a daughter, is collected in a definitive anthology of her work.
Reviews:
"The first declaration of a black, lesbian feminist identity took place in these poems, and set the terms -- beautifully, forcefully -- for contemporary multicultural and pluralist debate." -- Publishers Weekly 
"This is an amazing collection of poetry by... one of our best contemporary poets... Her poems are powerful, often political, always lyrical and profoundly moving." -- Chuckanut Reader Magazine 
"What a deep pleasure to encounter Audre Lorde's most potent genius... you will welcome the sheer accessibility and the force and beauty of this volume." --  Out Magazine
About the Author:
Audre Lorde (1934-1992) published eleven volumes of poetry and five works of prose. Her constellation of honors includes honorary doctorates from Hunter, Oberlin, and Haverford colleges.