---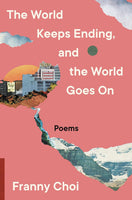 by Franny Choi
Ecco Press
11/7/2023, paperback
SKU: 9780063240094
From acclaimed poet Franny Choi comes a poetry collection for the ends of worlds--past, present, and future. Choi's third book features poems about historical and impending apocalypses, alongside musings on our responsibilities to each other and visions for our collective survival.
Many have called our time dystopian. But The World Keeps Ending, and the World Goes On reminds us that apocalypse has already come in myriad ways for marginalized peoples.
With lyric and tonal dexterity, these poems spin backwards and forwards in time--from Korean comfort women during World War II, to the precipice of climate crisis, to children wandering a museum in the future. These poems explore narrative distances and queer linearity, investigating on microscopic scales before soaring towards the universal. As she wrestles with the daily griefs and distances of this apocalyptic world, Choi also imagines what togetherness--between Black and Asian and other marginalized communities, between living organisms, between children of calamity and conquest--could look like. Bringing together Choi's signature speculative imagination with even greater musicality than her previous work, The World Keeps Ending, and the World Goes On ultimately charts new paths toward hope in the aftermaths, and visions for our collective survival.
Reviews:
"Franny Choi's poems are both of the world and transport us to another. I've taught her writing in multiple contexts for years. I'm thrilled to now have this new collection of her poems to savor and to share. The World Keeps Ending, and the World Goes On is a luminous, jarring, and gorgeous gift. Grateful to have these poems as a compass in these times" -- Mariame Kaba, author of the NYT bestseller We Do This Til We Free Us
"It was Franny Choi who first taught me the truism that every utopia requires an attendant dystopia, and here she catalogues them both with aplomb. Choi charts a path through the gloom and ecstasy of everyday catastrophe, always more mundane than we expected. It's dull and violent and lined with ancestral memory and mushrooms ready to forage. Anyone who has lived through the daily absurdity of disaster-- which is to say, all of us-- can find a home here." -- Eve L. Ewing, author of 1919 and Electric Arches
"A marked attentiveness to craftsmanship and the niceties of language enlivens the poems in Franny Choi's urgent, stirring [collection]. A fearless shifter of form, Choi switches moods and modes to tackle such topics as social unrest, climate change and her Korean heritage. Formidable themes like the nature of tragedy and the human capacity for renewal lend a timelessness to her work. Choi's collection will awaken and inspire readers...her attitude is contagious." -- BookPage (starred review)
About the Author:
Franny Choi is the author of two previous poetry collections, Soft Science and Floating, Brilliant, Gone. Her poems have appeared in the New York Times, the Nation, the Paris Review, and elsewhere. They are Faculty in Literature at Bennington College and founded Brew & Forge, a project that aims to build connections between writers, artists, and organizers.