---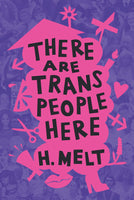 by H. Melt
Haymarket Books
11/16/2021, paperback
SKU: 9781642595727
An unapologetic, abolitionist collection of poetry that reimagines trans futures, and pays tribute to trans liberation history and movements.
There are trans people here in the past, the present, and the future. H. Melt's writing centers the deep care, love, and joy within trans communities. This poetry collection describes moments of resistance in queer and trans history as catalysts for movements today. It honors trans ancestors and contemporary activists, artists, and writers fighting for trans liberation. There Are Trans People Here is a testament to the healing power of community and the beauty of trans people, history, and culture.
Reviews:
"H. Melt's matter-of-fact, precise, cartographic poems perform necessary care work for the trans people and places they attend to and yearn toward. Deeply grounded in the plain, bountiful fact of trans worlds--and insisting on our worlds to come--this book offers all who need it a map to a world 'forever in bloom.'" --Cameron Awkward-Rich, author of Dispatch
About the Author:
H. Melt is a poet, artist and educator who celebrates trans liberation. They are the author of The Plural, The Blurring and editor of Subject to Change: Trans Poetry & Conversation. Lambda Literary awarded them the Judith A. Markowitz Award for Emerging LGBTQ Writers.