---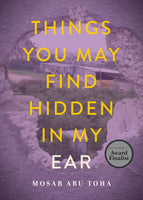 by Mosab Abu Toha
City Lights Books
4/26/2022, paperback
SKU: 9780872868601
Winner of the Palestine Book Award and the American Book Award
National Book Critics Circle Award for Poetry Finalist

"Written from his native Gaza, Abu Toha's accomplished debut contrasts scenes of political violence with natural beauty."--The New York Times
In this poetry debut Mosab Abu Toha writes about his life under siege in Gaza, first as a child, and then as a young father. A survivor of four brutal military attacks, he bears witness to a grinding cycle of destruction and assault, and yet, his poetry is inspired by a profound humanity.
These poems emerge directly from the experience of growing up and living in constant lockdown, and often under direct attack. Like Gaza itself, they are filled with rubble and the ever-present menace of surveillance drones policing a people unwelcome in their own land, and they are also suffused with the smell of tea, roses in bloom, and the view of the sea at sunset. Children are born, families continue traditions, students attend university, and libraries rise from the ruins as Palestinians go on about their lives, creating beauty and finding new ways to survive.
Accompanied by an in-depth interview (conducted by Ammiel Alcalay) in which Abu Toha discusses life in Gaza, his family origins, and how he came to poetry.
Reviews:
"The sensational young Palestinian poet Mosab Abu Toha deftly harnesses the raw power of words and imagery to expose the cruel and often absurd realities of sustaining life in a city under siege. Abu Toha, who reflects on his family's prolonged statelessness, is a literary warrior for whom crafting poetry is an act of resistance against the occupying power... His debut poetry collection offers emotionally frank vignettes as well as an extended interview conducted by Ammiel Alcalay. The poetry cracks open a window to the stark realities of life for Gaza's struggling residents, with Abu Toha serving as a gentle yet insistent messenger who whispers: 'Look, see our wounds, they are real.'" -- Shelf Awareness, starred review
"Mosab Abu Toha is an astonishingly gifted young poet from Gaza, almost a seer with his eloquent lyrical vernacular, his visions of life, continuity, time, possibility, and beauty. His poems break my heart and awaken it, at the same time. I feel I have been waiting for his work all my life." -- Naomi Shihab Nye, author of The Tiny Journalist
About the Author:
Mosab Abu Toha is a Palestinian poet, scholar, and librarian who was born in Gaza and has spent his life there. He is the founder of the Edward Said Library, Gaza's first English-language library. Things You May Find Hidden in My Ear is his debut book of poems. It won a 2022 Palestine Book Award and was named a finalist for the National Book Critics Circle Award in Poetry. From 2019-2020, Abu Toha was a Visiting Poet in the Department of Comparative Literature at Harvard University. Abu Toha is a columnist for Arrowsmith Press, and his writings from Gaza have also appeared in The Nation and Literary Hub. His poems have been published in Poetry, The Nation, the Academy of American Poets' Poem-a-Day, Poetry Daily, and the New York Review of Books, among others.