---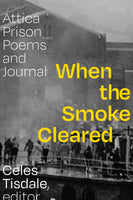 Edited by Celes Tisdale
Duke University Press
11/29/2022, paperback
SKU: 9781478018940
Following the Attica prison uprising in September 1971, Celes Tisdale--a poet and then professor at Buffalo State College--began leading poetry workshops with those incarcerated at Attica. Tisdale's workshop created a space of radical Black creativity and solidarity, in which poets who lived through the uprising were able to turn their experiences into poetry.
The poems written by Tisdale's students were published as Betcha Ain't: Poems from Attica in 1974. When the Smoke Cleared contains the entirety of Betcha Ain't, Tisdale's own poems and journal entries from the three years he taught at Attica, a previously unpublished collection of poems by Attica poets, and a critical introduction by poet Mark Nowak.
In addition to the poetry, Tisdale's journal entries give readers a unique opportunity to experience what it was like to enter Attica as an educator and return week after week to discuss poetry. When the Smoke Cleared showcases these poets' achievements, their desire for self-determination, and their historical role as storytellers of Black life in a prison monitored exclusively by white guards and administrators.
Reviews:
"Celes Tisdale has been able to inspire men in one of the country's most notorious hellholes, Attica prison, where men were mowed down like dogs under the directions of an ambitious governor who wanted to shed his reputation as a liberal and show racists in his party that he could practice tough love. The poems from Tisdale's workshop stand up next to any of those published in contemporary anthologies. Shouldn't those who manage our public schools be embarrassed? Is it because Tisdale is a poet? A Black man? Someone who directs his students to literature from writers who share their experience, instead of a curriculum that is little more than a loyalty oath to Eurocentrism?" -- Ishmael Reed 
"The publication of this collection comes at an urgent moment as activists and freedom fighters are forcing institutions and public culture to reckon with the history and present reality of anti-Black violence, police brutality and the centuries-long subjugation of Black people. Offering an insightful and historically specific contribution to the need to better understand and abolish the carceral state, When the Smoke Cleared provides an invaluable contribution to prison studies, the Black radical tradition, and the history of the Attica uprising." -- Nicole R. Fleetwood, author of Marking Time: Art in the Age of Mass Incarceration
About the Author:
Celes Tisdale is Distinguished Emeritus Professor of English at the State University of New York at Buffalo and editor of Betcha Ain't: Poems from Attica and We Be Poetin'.