---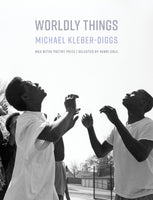 by Michael Kleber-Diggs
Milkweed Editions
7/12/22, paperback
SKU: 9781639550753
In these poems, Kleber-Diggs names delight in the same breath as loss. Moments suffused with love--teaching his daughter how to drive; watching his grandmother bake a cake; waking beside his beloved to ponder trumpet mechanics--couple with moments of wrenching grief--a father's life ended by a gun; mourning children draped around their mother's waist; Freddie Gray's death in police custody. Even in the refuge-space of dreams, a man calls the police on his Black neighbor. But Worldly Things refuses to "offer allegiance" to this centuries-old status quo. With uncompromising candor, Kleber-Diggs documents the many ways America systemically fails those who call it home while also calling upon our collective potential for something better. "Let's create folklore side-by-side," he urges, asking us to aspire to a form of nurturing defined by tenderness, to a kind of community devoted to mutual prosperity. "All of us want," after all, "our share of light, and just enough rainfall." Sonorous and measured, the poems of Worldly Things offer needed guidance on ways forward--toward radical kindness and a socially responsible poetics.

Reviews:
"In his debut poetry collection, Worldly Things, Kleber-Diggs takes his lived experience as a Black man in America, and with his pen, unpacks it . . . There are poems in the collection about Kleber-Diggs' father's death; his wife's miscarriage; about race and racism. Because these are the sorts of subjects he feels compelled to discuss . . . in ways that are candid, open-minded and openhearted. Through these hard conversations, he feels our most profound connections are made." -- Minneapolis Star Tribune
"This debut poetry collection shines with moments of unexpected brilliance in scenes of domesticity, rural life, and African American experiences . . . Kleber-Diggs revels in evocative simplicity . . . A stunning new poetic voice similar to John Murillo and Tommye Blount." -- Booklist
About the Author:

Michael Kleber-Diggs was born and raised in Kansas and now lives in St. Paul, Minnesota. His work has appeared in Lit Hub, the Rumpus, Rain Taxi, McSweeney's Internet Tendency, Water Stone Review, Midway Review, North Dakota Quarterly and a few anthologies. Michael teaches poetry and creative nonfiction through the Minnesota Prison Writers Workshop.