---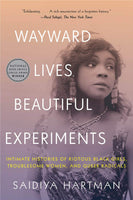 by Saidiya Hartman
W. W. Norton and Company
1/14/2020, paperback
SKU: 9780393357622
Beautifully written and deeply researched, Wayward Lives, Beautiful Experiments examines the revolution of black intimate life that unfolded in Philadelphia and New York at the beginning of the twentieth century.
In wrestling with the question of what a free life is, many young black women created forms of intimacy and kinship indifferent to the dictates of respectability and outside the bounds of law. They cleaved to and cast off lovers, exchanged sex to subsist, and revised the meaning of marriage. Longing and desire fueled their experiments in how to live. They refused to labor like slaves or to accept degrading conditions of work.
Here, for the first time, these women are credited with shaping a cultural movement that transformed the urban landscape. Through a melding of history and literary imagination, Wayward Lives, Beautiful Experiments recovers these women's radical aspirations and insurgent desires.
Reviews:
"Kaleidoscopic.... In granting these forgotten women a voice, and conjuring their longing for freedom, Hartman resists the century-long diminution of their lives to social problems.... The result is an effect more usually associated with fiction than history, of inspiring a powerful imaginative empathy--not only towards characters in the distant past but towards the strangers all around us, whose humanity we share. "--Joanna Scutts, historian and author of The Extra Woman

"Brilliant.... A virtuosic work of scholarship that recovers fragments of the lives of women who were supposed to be forgotten. As a result of her formidable research, stunning erudition, translucent prose and bold imagination, Saidiya Hartman reanimates their lives. Readers will not be able to forget them. They will also learn much about the social forces that enabled and constrained their struggle to live in beauty and freedom." --Cheryl A. Wall, literary critic and professor at Rutgers University

About the Author:
Saidiya Hartman is the author of Wayward Lives, Beautiful Experiments, Lose Your Mother: A Journey Along the Atlantic Slave Route and Scenes of Subjection. A MacArthur "Genius" Fellow, she has been a Guggenheim Fellow, Cullman Fellow, and Fulbright Scholar. She is a professor at Columbia University and lives in New York.