---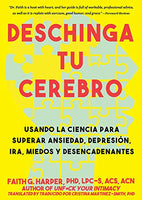 by Faith G. Harper PhD, Lpc-S, ACS, ACN, Translated by Christina Martinez-Smith, PhD, LpC
Microcosm Publishing
11/9/2020, paperback
SKU: 9781621065043
Nuestros cerebros están haciendo todo lo posible para ayudarnos, pero a veces pueden ser verdaderos imbéciles. A veces parece que tu propio cerebro está tratando de atraparte, alterándose en frente de todo el público, buscando pleito con tu pareja, volviéndote adicto a algo o congelándose por completo en los peores momentos posibles. Ya le dijiste a tu cerebro que en serio no es bueno hacer este tipo de cosas. Pero tu cerebro tiene una mente propia. Ahí es donde este libro llega a ser útil. Con humor, paciencia y muchas palabrotas, Dr. Faith te muestra la ciencia detrás de lo que está sucediendo en tu cráneo y te explica a través del proceso cómo reentrenar tu cerebro para responder adecuadamente a las cosas que no son de emergencia en la vida cotidiana. Si estás trabajando para lidiar con viejos traumas, depresión, ansiedad, enojo, dolor o adicción, o si solo quieres tener una respuesta más calmada y relajada a las situaciones que enfrentas todo el tiempo, este libro puede ayudarte a poner las piezas del rompecabezas juntas y recuperar tu vida y tu cerebro.
About the Author/Sobre las Contribuyentes:
Faith G. Harper, PhD, LPC-S, ACS, ACN is a bad-ass, funny lady with a PhD. She's a licensed professional counselor, board supervisor, certified sexologist, and applied clinical nutritionist with a private practice and consulting business in San Antonio, TX. She has been an adjunct professor and a TEDx presenter, and proudly identifies as a woman of color and uppity intersectional feminist. She is the author of the book Unf*ck Your Brain and many other popular zines and books on subjects such as anxiety, depression, and grief. She is available as a public speaker and for corporate and clinical trainings.Subscribe to the Unfuck Your Brain newsletter to get a discount on her books and zines.
Cristina Martínez-Smith tiene un doctorado en Consejería, Educación y Supervisión. Ella es terapeuta bilingüe de salud mental. Ha hecho investigación para mejorar el entrenamiento de consejeros bilingües; supervisa e imparte clases en Inglés y Español, es artista, emprendedora y mas que nada es una mujer orgullosamente mexicana.