---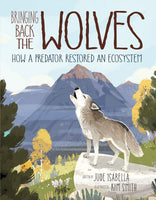 by Jude Isabella, Illustrated by Kim Smith
Kids Can Press
3/3/2020, hardcover
SKU: 9781771386258
An unintended experiment in Yellowstone National Park, in which an ecosystem is devastated and then remarkably rehabilitated, provides crucial lessons about nature's intricate balancing act.
In the 1800s, hunters were paid by the American government to eliminate threats to livestock on cattle ranches near Yellowstone National Park. They did such a good job that, by 1926, no gray wolf packs were left in the park. Over the following decades, virtually every other part of the park's ecosystem was affected by the loss of the wolves --- from the animals who were their prey, to the plants that were the food for that prey, to the streams that were sheltered by those plants --- and the landscape was in distress. So, starting in 1995, in an attempt to reverse course, the government reintroduced gray wolves to the park. Over time, animal populations stabilized, waterways were restored and a healthy ecosystem was recreated across the land. It's a striking transformation, and a fascinating tale of life's complicated interdependencies.
Jude Isabella's thoroughly researched, expert-reviewed text and Kim Smith's beautiful nature art bring science to life in this captivating story of renewal. Readers will recognize just how complex an ecosystem is and learn about the surprising interconnectedness of its members. Biodiversity, ecosystems, the food chain, habitats, needs of living things and the importance of human stewardship of the environment are all covered through this real-life example, offering direct links to earth and life science curriculums.
Food web infographics help reinforce the information. A glossary and index add to the book's usefulness.
Target age: 7 to 12
About the Author:
Jude Isabella started writing kids' books when she was managing editor of YES Mag: Canada's Science Magazine for Kids. A resident of Victoria, British Columbia, Jude lives with her husband, a raccoon that refuses to be evicted from the bicycle shed and a small group of deer that graze in the garden each summer. When she's not writing or interviewing scientists, Jude is most likely to be found riding her pretty green bicycle.