---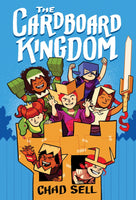 by Chad Sell
Aflred A. Knopf Books for Young Readers
6/5/2018, paperback
SKU: 9781524719388
This graphic novel follows a neighborhood of kids who transform ordinary cardboard into fantastical homemade costumes as they explore conflicts with friends, family, and their own identities. 
In the Cardboard Kingdom, you can be anything you want to be--imagine that!
Target age: 8-11

The Cardboard Kingdom was created, organized, and drawn by Chad Sell with writing from ten other authors: Jay Fuller, David DeMeo, Katie Schenkel, Kris Moore, Molly Muldoon, Vid Alliger, Manuel Betancourt, Michael Cole, Cloud Jacobs, and Barbara Perez Marquez.