---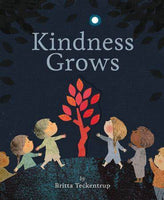 by Britta Teckentrup
Tiger Tales
6/7/2022, paperback

SKU: 9781664340381

Angry words can ruin friendships, but a gesture as simple as a smile can cause kindness to bloom and friendships to mend. Die-cut pages feature a sapling that grows into a flowering tree with each turn of the page as kindness is spread.
Harsh words, disagreements, and shouting can cause friendships to bend and sometime break. Friends are sad when they're left out, and once a mean word is spoken, it's impossible to take it back. But what if we were to spread kindness instead? Offering words of encouragement, sharing, caring for others, and playing together all help to make friendships stronger -- and we are certainly stronger together!
Target age: 3 to 7
About the Author:
Britta Teckentrup was born in Hamburg, Germany and grew up in a town called Wuppertal. She moved to London in 1988 to study illustration and fine art at St Martin's College and the Royal College of Art. Britta is the author and illustrator of many well-loved books for children. Britta has written and illustrated 60 children's books which have been published in over 20 different countries. After 17 years in the UK - Britta now lives and works in Berlin with her husband, young son and their cat.