---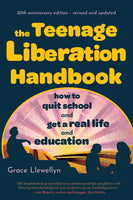 by Grace Llewellyn
Lowry House Publishers
10/1/2021, paperback
SKU: 9780962959196
The inspiring, funny, and information-packed underground classic is back-in a completely revised and updated thirtieth anniversary edition!
The Teenage Liberation Handbook is (still) the only complete guide to unschooling written for youth. It tackles everything
why to consider self-directed education
communicating with reluctant parents
"getting a social life without proms"
designing a "tailor-made intellectual extravaganza" and getting into college
finding great mentors, apprenticeships, and volunteer positions
Devoted fans of the Handbook include not only teenagers and college students but also thousands of parents, teachers, young adult librarians, school counselors, and college professors. The new edition is loaded with updated resource sections, a thoughtful new introduction, and refreshed text throughout.
Reviews:
"Heartily recommended to every flavor of human being, not just teenagers. . . . Sooner or later you're going to realize that you've been cheated out of a real life by missing a real education-when that time comes Grace Llewellyn's Handbook will save you a thousand hours of frustration, false starts and missed opportunities." -John Taylor Gatto, New York State Teacher of the Year, 1991, author of Dumbing Us Down: The Hidden Curriculum of Compulsory Schooling
"I encourage the slow drinking in of this book. . . . Grace offers plenty of madd question-askin' opportunities, and plenty of invitations to challenge what you thought you knew about the purpose and power of education, so that you can be a liberation zone for a young person in your life." -Akilah S. Richards, author of Raising Free People: Unschooling as Liberation and Healing Work
About the Author:
Grace Llewellyn is a former middle school teacher, the founder and director of Not Back to School Camp, and a global thought leader in the field of Self-Directed Education. Her other books are Real Lives: Eleven Teenagers Who Don't Go to School Tell Their Own Stories, Freedom Challenge: African American Homeschoolers, and Guerrilla Learning: How to Give Your Kids a Real Education With or Without School. She lives with her son in Eugene, Oregon.