---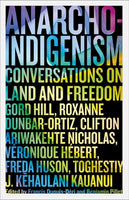 Edited by Francis Dupuis-Déri and Benjamin Pillet
Pluto Press
9/20/2023, paperback
SKU: 9780745349220
As early as the end of the nineteenth century, anarchists such as Peter Kropotkin and Élisée Reclus became interested in Indigenous peoples, many of whom they saw as societies without a state or private property, living a form of communism. Thinkers such as David Graeber and John Holloway have continued this tradition of engagement with the practices of Indigenous societies, while Indigenous activists coined the term 'anarcho-indigenism', in reference to a long history of (often imperfect) collaboration between anarchists and Indigenous activists, over land rights and environmental issues, including recent high profile anti-pipeline campaigns.
Anarcho-Indigenism is a dialogue between anarchism and Indigenous politics. In interviews, the contributors reveal what Indigenous thought and traditions and anarchism have in common, without denying the scars left by colonialism. They ultimately offer a vision of the world that combines anti-colonialism, feminism, ecology, anti-capitalism and anti-statism.
Reviews:
"Anarchists have much to learn from indigenous struggles for decolonization. This thought provoking collection of interviews with indigenous activists offers insight into points of contact, affinities and tensions." -- Lesley J. Wood, Professor of Sociology, York University, Toronto
"Combines rich and arresting reflections on anarchism and indigenism with an incisive analysis of the complexities, tensions and affinities of anarchist and indigenous politics. Vigorously affirming anarchism's plurality, Dupuis-Déri and Pillet also make a powerful case for the reconfiguration of anticolonial struggle." -- Ruth Kinna, Loughborough University Anarchism Research Group
About the Editors:
Francis Dupuis-Déri is a Professor of Political Science and a member of the Institut de Recherches et d'études Féministes at the Université du Québec à Montréal. He has been active in anarchist-leaning collectives in Quebec, France and the United States. He is the author of several books such as Anarchy Explained to My Father, with his father Thomas Déri and Who's Afraid of the Black Blocs?: Anarchy in Action Around the World.
​Benjamin Pillet is a translator and community organizer. He holds a PhD in Political Thought from the Université du Québec à Montréal, Quebec and a MA in History and Political Theory from Sciences Po Paris, France. His main research interests include settler colonial studies, decolonial theory and praxis, intercultural solidarity and critical race theory.