---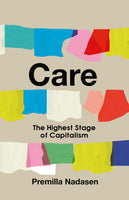 by Premilla Nadasen
Haymarket Books
10/10/2023, paperback
SKU: 9781642599664
An eye-opening reckoning with the care economy, from its roots in racial capitalism to its exponential growth as a new site of profit and extraction.
Since the earliest days of the pandemic, care work has been thrust into the national spotlight. The notion of care seems simple enough. Care is about nurturing, feeding, nursing, assisting, and loving human beings. It is "the work that makes all other work possible." But as historian Premilla Nadasen argues, we have only begun to understand the massive role it plays in our lives and our economy.
Nadasen traces the rise of the care economy, from its roots in slavery, where there was no clear division between production and social reproduction, to the present care crisis, experienced acutely by more and more Americans. Today's care economy, Nadasen shows, is an institutionalized, hierarchical system in which some people's pain translates into other people's profit.

Yet this is also a story of resistance. Low-wage workers, immigrants, and women of color in movements from Wages for Housework and Welfare Rights to the Movement for Black Lives have continued to fight for and practice collective care. These groups help us envision how, given the challenges before us, we can create a caring world as part of a radical future.
Reviews:
"Premilla Nadasen's Care is a clear, useful tool for thinking about both the brutal exploitation of capitalist care relations and the transformative power of grassroots collective care projects. Nadasen deftly weaves insights from labor resistance, Black feminism, anti-colonial struggles, disability justice, and other radical traditions into a cohesive analysis of reproductive labor that will be a readable primer for classroom and community use as much as it is a visionary inquiry into what new social relations we need to be building right now. This book is a generous contribution to the most urgent conversations happening in social movements and embattled communities right now." -- Dean Spade, author of Mutual Aid: Building Solidarity During This Crisis (and the Next)
"If you think the 'care economy' sounds like a socialist nirvana, think again. Premilla Nadasen reveals how the exploitation and commodification of reproductive labor has enriched corporations, compensated for a shrinking welfare state, and pauperized the very workers responsible for the sustenance, health, and well-being of others. The consequences of a gendered racial capitalist 'care economy' are deepening inequality, more broken people, and a culture of sacrifice that only serves to mask misery and low wages. Once you read this highly original, incisive, and unsettling book, you will no longer honor nurses by banging pots together but by joining a picket line instead." -- Robin D. G. Kelley, author of Freedom Dreams: The Black Radical Imagination
"Premilla Nadasen is a pathbreaking scholar of Black women's labor and welfare organizing, as well as a radical feminist activist in her own right. She has a passion and a powerful talent for telling the complicated truths that define working class women of color's lives. In Care: The Highest Stage of Capitalism, Nadasen offers a brilliant interrogation of the exploitative and profit-driven care system in the United States. To fully understand racial capitalism in the 21st century, you have to read this book." -- Barbara Ransby, professor and director of the Social Justice Initiative, University of Illinois at Chicago, and author of the award-winning Ella Baker and The Black Freedom Movement and Eslanda: The Large and Unconventional Life of Mrs. Paul Robeson
About the Author:
Premilla Nadasen is a Professor of History at Barnard College, Columbia University. She served as president of the National Women's Studies Association (2018-2020) and is currently co-Director of the Barnard Center for Research on Women. Born in South Africa, Nadasen has been involved in social justice organizing for many decades and published extensively on the multiple meanings of feminism, alternative labor movements, and grass-roots community organizing. Among her many awards and fellowships are the Fulbright Visiting Professorship, the John Hope Franklin Prize, and the inaugural Ann Snitow Prize for feminist intellectual and social justice activism. Her books include Welfare Warriors: The Welfare Rights Movement in the United States and Household Workers Unite: The Untold Story of African American Women Who Built a Movement. She lives in the Bronx.