---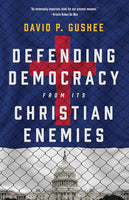 by David P Gushee
William B. Eerdmans Publishing
10/3/2023, hardcover
SKU: 9780802882936
American democracy is in danger. How do we protect it from reactionary authoritarian Christianity?
On January 6, 2021, hundreds of Americans stormed the Capitol to prevent the certification of their political opponent's election. At the forefront were Christians claiming to act in the name of Jesus Christ and his supposed representative on earth, Donald Trump. How can this have happened?
David P. Gushee tackles the question in this timely work of Christian political ethics. Gushee calls us to preserve democratic norms, including constitutional government, the rule of law, and equal rights for all, even as many Christians take a reactionary and antidemocratic stance. He analyzes where Christians have discarded their commitment to democracy and bought into authoritarianism in the US and several other countries, both historically and today. He urgently argues that to defend against reactionary and authoritarian Christians we must revive and draw on our hard-won traditions of congregational democracy, dissident Black Christian politics, and covenantal theology. 
Defending Democracy from Its Christian Enemies makes a robust case for the defense of democracy from its enemies--including Christians--arguing for a renewed commitment to democracy on the part of Christians, by drawing on our own best traditions, not succumbing to mere secular liberalism. Any concerned Christian will leave its pages with eyes wide open to the dangers of our current form of political engagement Readers will gain insight into what democracy is truly meant to be and why Christians once supported it wholeheartedly--and should do so again.
Reviews:
"Unflinching in his analysis, David Gushee traces the sobering history of Christianity's all too frequent complicity in authoritarian rule. Yet Gushee also shows how Christians have within their faith the tools to restore democracy at this critical juncture. Reminding readers that democracy must be fought for, Gushee equips the American church for this battle. Defending Democracy from Its Christian Enemies is an immensely important book for our present moment."
-- Kristin Kobes Du Mez, author of Jesus and John Wayne: How White Evangelicals Corrupted a Faith and Fractured a Nation
"Against a bewildering explosion of recent books struggling to make sense of the role of religion in the resurgence of right-wing authoritarian global politics, David Gushee enters the current fray with a signal contribution in Defending Democracy from Its Christian Enemies. Not only does he do a marvelous job of documenting the history and current state of global Christian illiberal impulses and tendencies, but he also skillfully explains its most recent incarnation in US politics in the person of President Donald Trump. Not content to merely analyze authoritarian reactionary Christianity, as he calls it, he offers a theological antidote to rising antidemocratic politics in American churches by drawing on the Baptist democratic tradition as well as the Black Christian tradition in the United States. This is a must read for anyone concerned about the current Christian threats to democracy dominating our headlines." -- Shaun Casey, author of Chasing the Devil at Foggy Bottom: The Future of Religion in American Diplomacy
"This is an important book. It asks about the ways in which Christians may favor autocratic politics over democracy and does not shy away from difficulties. It analyses how authoritarian regimes can legitimate their power by playing into religious sentiments. Thus, it gives a theological foundation to the need for political awareness within Christian circles. Its analysis should be read by theologians, Christians in general, and all those who are politically engaged."
-- Bert Jan Lietaert Peerbolte, Vrije Universiteit Amsterdam
About the Author:
David P. Gushee is Distinguished University Professor of Christian Ethics at Mercer University, Atlanta, Georgia. He also serves as chair in Christian social ethics at Vrije Universiteit and senior research fellow at International Baptist Theological Study Centre, both in Amsterdam. His many other books include Righteous Gentiles of the Holocaust: Genocide and Moral Obligation.