---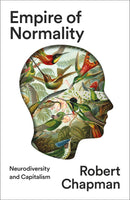 by Robert Chapman
Pluto Press
11/20/2023, paperback
SKU: 9780745348667

Neurodiversity is on the rise. Awareness and diagnoses have exploded in recent years, but we are still missing a wider understanding of how we got here and why. Beyond simplistic narratives of normativity and difference, this groundbreaking book exposes the very myth of the 'normal' brain as a product of intensified capitalism.
Exploring the rich histories of the neurodiversity and disability movements, Robert Chapman shows how the rise of capitalism created an 'empire of normality' that transformed our understanding of the body into that of a productivity machine. Neurodivergent liberation is possible - but only by challenging the deepest logics of capitalism. Empire of Normality is an essential guide to understanding the systems that shape our bodies, minds and deepest selves - and how we can undo them.
Reviews:
"Empire of Normality argues that a radical politics of neurodiversity needs to be central to the struggle against capitalism. Chapman explains why this is necessary, not only for neurodivergent folk, but for our collective liberation. Thought provoking, challenging and compelling." -- Professor Hel Spandler, Editor, Asylum: the radical mental health magazine
"An instant seminal text, Empire of Normality takes on the huge task of crafting a coherent, radical, Marxist approach to neurodivergence. Chapman impressively and critically assembles disparate philosophical, scientific and activist currents across time to carve out a new politics that pushes beyond liberal rights-based approaches, and guides us towards a liberated future." -- Micha Frazer-Carroll, author of Mad World: The Politics of Mental Health
About the Author:
Robert Chapman is a neurodivergent philosopher, writing on neurodiversity theory, madness and disability. They have taught at King's College London, the University of Bristol, Sheffield Hallam and Durham University where they are currently an Assistant Professor in Critical Neurodiversity Studies. They blog at Psychology Today and at Critical Neurodiversity.