---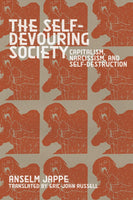 by Anselm Jappe, Translated by Eric-John Russell
Common Notions
10/31/2023, paperback
SKU: 9781942173793
Liberals smirk at Trump's narcissism, but, as renowned theorist Anselm Jappe explains, contemporary capitalism has turned everyone into a narcissist.
The Greek myth of Erysichthon describes the fate of a king whose hunger drove him to eat until the only thing left to devour was himself. This image--of a society spiraling inexorably in a self-destructive dynamic--forms the starting point of Anselm Jappe's investigation into the relationship between contemporary capitalism and subjectivity, or our personal experience of the world.

In a work that unites the critique of political economy and the psychoanalytic tradition, Jappe explores the dynamics of contemporary capitalism and explains how internalizing them creates a specific kind of person--a narcissist, someone who can only interact with the world by consuming it and who cannot conceive of limits to this consumption. In conversation with Marx as well as Freud, Erich Fromm, Herbert Marcuse, and Christopher Lasch, Jappe probes the ways in which the churning of the capitalist machine, ceaseless and yet devoid of real purpose, creates an endless hunger that increasingly ends in spectacular violence.

Everyone can feel that the world is getting angrier. The Self-Devouring Society provides an original and rigorous explanation of why.
Reviews:
"An absolutely remarkable essay on the links between narcissism and ultra-capitalism. It should be read with a solid reserve of coffee and silence at your disposal: its analysis is as fascinating as it is sharp." -- Maïa Mazaurette, GQ France
"Anselm Jappe describes the slow development of capitalism through the growing narcissism of the subject. The indifference and cruelty of capitalism, obsessed with quantitative value... is mirrored in the narcissist's indifference and cruelty to others." -- Romaric Godin, Mediapart
"...Capitalism creates a profound anthropological mutation, according to the author, by destroying all the symbolic and material limits to its expansion.... The globalization of capitalism being practically complete today, the modern subject ends up internalizing the '"death drive'" of this fetishized world, the crucible for the outbursts of extreme violence that strike at the very heart of the most developed countries." -- Mehdi Benallal, Le Monde Diplomatique
About the Author:
Anselm Jappe is a philosopher and social critic who explores the intersection between contemporary capitalism, art, and subjectivity. He currently teaches art history and political and economic theory at the Accademia di Belle Arti di Sassari in Sardinia. His books have been translated into several languages. Books in English include Guy Debord and The Writing on the Wall: On the Decomposition of Capitalism and Its Critics. In 2015, Le Magazine Littéraire listed Jappe as one of "Thirty Names in French Thought to Watch Out For."
Eric-John Russell teaches in the Department of Philosophy at Université Paris 8. He is the author of Spectacular Logic in Hegel and Debord: Why Everything is as it Seems and an editor of Cured Quail. He lives in Berlin.