---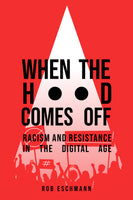 by Rob Eschmann
University of California Press
5/2/2023, paperback
SKU: 9780520379749
This timely, comprehensive study examines how racism manifests online and highlights the antiracist tactics rising to oppose it
From cell phone footage of police killing unarmed Black people to leaked racist messages and even comments from friends and family on social media, online communication exposes how racism operates in a world that pretends to be colorblind. In When the Hood Comes Off, Rob Eschmann blends rigorous research and engaging personal narrative to examine the effects of online racism on communities of color and society, and the unexpected ways that digital technologies enable innovative everyday tools of antiracist resistance.
Drawing on a wealth of data, including interviews with students of Color around the country and analyses of millions of social media posts over the past decade, Eschmann investigates the influence of online communication on face-to-face interactions. When the Hood Comes Off highlights the power of the internet as an organizing tool, and shows that online racism can be a profound wake-up call. How will we respond?
Reviews:
"Eschmann raises important issues about what it means to be a young person in our very online world at a time when White supremacy is resurgent. He draws on a huge trove of data and writes about it with lucidity and urgency. When the Hood Comes Off make a significant new contribution to our understanding of race, racism, and technology."--Jessie Daniels, author of Nice White Ladies: The Truth about White Supremacy, Our Role in It, and How We Can Help Dismantle It
"When the Hood Comes Off is a testament to the idea that social media platforms are critical spaces for racial discourse. However, Eschmann does not limit himself solely to studying what happens on social media platforms. He interviews students of color all across the country who experience online racist rhetoric and who forge online and offline spaces of antiracist resistance."--Ibram X. Kendi, author of How to Be an Antiracist and Stamped From the Beginning: The Definitive History of Racist Ideas in America
About the Author:
Rob Eschmann is a writer, scholar, filmmaker, and educator from Chicago. He is Associate Professor of Social Work and a member of the Data Science Institute at Columbia University, as well as Faculty Associate at Harvard's Berkman Klein Center for Internet and Society.