---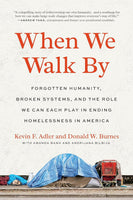 by Kevin F. Adler and Donald W. Burns, with Amanda Banh and Andrijana Bilbija
North Atlantic
11/7/2020, paperback
SKU: 9781623178840
A deeply humanizing analysis that will change the way you think about poverty and homelessness--for the socially engaged reader of Isabel Wilkerson's Caste and Matthew Desmond's Evicted.

Think about the last time that you saw or interacted with an unhoused person. What did you do? What did you say? Did you offer money or a smile, or did you avert your gaze?
When We Walk By takes an urgent look at homelessness in America, showing us what we lose--in ourselves and as a society--when we choose to walk past and ignore our neighbors in shelters, insecure housing, or on the streets. And it brilliantly shows what we stand to gain when we embrace our humanity and move toward evidence-based people-first, community-driven solutions, offering social analysis, economic and political histories, and the real stories of unhoused people.
Authors Kevin F. Adler and Donald W. Burnes, with Amanda Banh and Andrijana Bilbija, recast chronic homelessness in the U.S. as a byproduct of twin crises: our social services systems are failing, and so is our humanity. Readers will learn:
Why our brains have been trained to overlook our unhoused neighbors

The social, economic, and political forces that shape myths like "all homeless people are addicts" and "they'd have a house if they got a job"

What conservative economics gets wrong about housing insecurity

What relational poverty is, and how to shift away from "us versus them" thinking

That for many Americans, housing insecurity is just one missed paycheck away

Who "the homeless" really are--and why that might surprise you

What you can do to help, starting today
A necessary, deeply humanizing read that goes beyond theory and policy analysis to offer engaged solutions with compassion and heart, When We Walk By is a must-read for anyone who cares about homelessness, housing solutions, and their own humanity.
Reviews:
"Adler and Burnes, with their co-authors, offer fresh and hopeful solutions that could affect long-lasting change." -- Booklist, starred review
"The authors brilliantly examine our inequitable systems through the lens of healing our humanity and solving the problem at its root. A must-read for us all!" -- Tristia Bauman, Senior Attorney, The National Homelessness Law Center
About the Contributors:
Kevin F. Adler is the founder and CEO of the nonprofit Miracle Messages. He holds a Masters in Sociology from the University of Cambridge and a Bachelors in Politics from Occidental College. In his work on homelessness, he has pioneered the concept of "relational poverty" as an overlooked form of poverty severely affecting unhoused individuals. He previously authored Natural Disasters as a Catalyst for Social Capital.
Donald W. Burns funds The Burnes Institute for Poverty Research at the Colorado Center on Law and Policy and teaches at Denver's Academy for Lifelong Learning. He was an adjunct professor and scholar-in-residence at the University of Denver Graduate School of Social Work. He co-authored Journeys Out of Homelessness: The Voices of Lived Experience and A Nation in Denial: The Truth About Homelessness and co-edited Ending Homelessness: Why We Haven't, How We Can.
Amanda Banh and Andrijana Bilbija contributed research throughout.