---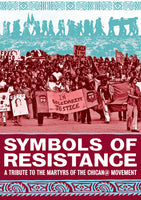 Sale
Freedom Archives
2017, DVD
SKU: 9781629635040
Symbols of Resistance illuminates the untold stories of the Chican@ Movement with a focus on events in Colorado and New Mexico. The film engages student activism; the effect of police repression and how issues of identity, land and community still resonate in the Chican@ struggles of today. Through interviews with those who shaped the movement and rare historical footage, Symbols of Resistance offers a window into a dynamic moment in history and movement building.  
Features interviews with Priscilla Falcon, Francisco 'Kiko' Martínez, Ricardo Romero, Deborah Espinosa, Juan Espinosa and more.
We cannot recommend this documentary enough. It is a vital window into the COINTELPRO repression and attacks on the Chican@ Movement of the 1960s and 70s.
Reviews:
"We are indebted to this documentary for bringing to life courageous student leaders in Colorado engaged in the Chican@ movement for respect and justice. The film illuminates dramatic moments in the 1970s during the fight against racism and colonialism that led to the brutal attacks on activists who were killed with little national awareness at the time." - Kathleen Cleaver, attorney and activist, former leader of the Black Panther Party